Barbara McDonald
Madmen & Lovers (White Eagle Records)
By: Alex Steininger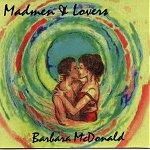 Barbara McDonald has a very interesting story to tell. Late one night she was online in a chat room. The same goes for John Perkins, who was on in the early England morning. They talked, and soon found that they shared a musical vision. They later got together and recorded what is known as MADMEN & LOVERS.

With the main focus of this album being pop-rock meets folk, with various other musical influences tossed around here and there, John (who plays acoustic & electric guitars, grand piano, bass, all keyboards and sequencing) and Barbara (who sings and plays acoustic guitar) are able to twist moods as they see fit. One minute the album has a punchy drum beat making the song a bit more up tempo than the last, while the next track may very well be easy-going and very subtle.

There is no question that Barbara has the voice to make the songs work, but there are times she just isn't able to play up to the power of the song. On the softer ones she's fine, but when the songs seem to get more up-tempo, she isn't able to match the song. Thus, it makes the song sound like a forced pop-rocker. Such is the case with the opener, "Angels In The Distance (Inspiration)."

That's not to say her vocal performance isn't good, because it is. The drums are just a bit too pushy for her soft voice to really match the intensity the music tries to create. She seems more comfortable in a gentler setting.

"Heartstrings" is more her style. The piano whispers through the song and gives Barbara a chance to really let her voice soar like an eagle in the blue sky. She beautifully captures the emotions of romance, which is a lovely event itself, and expresses herself with so much heart you can't help but feel the love the song lets off.

The album is a fair mixture of folk and pop-rock. It is on the softer songs she is at her best, with the pop-rock songs often trying to muscle up a rock beat rather than concentrating on the pop essence of the song; there, she traps herself. But when she is free, she makes the songs work. I'll give this album a C.