SHOW REVIEW: Black Atmosphere
March 26, 1999 -- Portland, Oregon Satyricon
By: Sonya Brown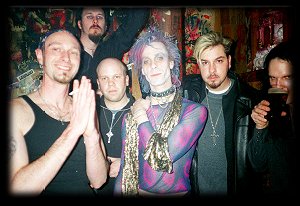 I first saw Black Atmosphere back in October of 1998, and was immediately impressed. The name Ziggy Stardust came to mind while watching Christoph perform, with his make up, the snow white tan, the gaunt body, and how he "really sang" with a backdrop of spider-webish images and scarf-draped microphone stand. I went home with visions of stardust dancing in my head, and I'm sure Bowie's alter-ego would have been proud. I made a vow to see them again as soon as possible; however they embarked upon a European tour shortly thereafter and it would take 5 months before I would be able to see them again.

I finally had the chance to see them perform again at the Cleopatra Compilation CD Release Party held at Satyricon for "The Unquiet Grave", where they performed with Written In Ashes and Trance To The Sun on March 26, 1999.

Black Atmosphere is a darkwave band from Seattle (by way of Los Angeles) that was originally intended as a recording project by Christoph back in 1991. How fortunate that the band was formed and became a touring ensemble, because their stage shows are a highly visual experience with the melodramatic movements of Christoph, as well as the electronics and darkness of the sound of Black Atmosphere that make up a provocative show of sound and vision.

The line-up at Satyricon that night were Christoph Gladis, vocals & guitar; Scott Storm, bass; Mark Mordread, drums; and Michael Aryn, guitars.... really quite paradise.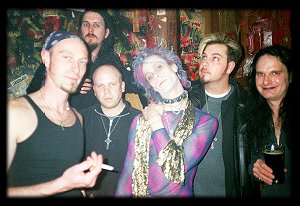 Their CD "Enrapture" is a must-have. My favorite tracks are "Fly", "Price of Time" & "Maid of Athens". I adore the guitar work in "Price of Time", and how the tempo then picks up for the next track, "Clouds" which has a strong percussion presence. The sound then flows into the more electronic sounding "Disintegrate Energy", and from there, softens again for "Maid of Athens" with words adapted from Lord Byron. The CD then ends with the instrumental piece "Redsand".
Black Atmosphere has a wonderful web-site, put together by Web Master Terry Neil Templeman, who I also met at Satyricon that night. It can be found at www.blackatmosphere.com.
Watching this band is almost hypnotic. The way Christoph drops to his knees with the grace of a cat, while Scott, Michael and Mark pull you into the music amidst a smoky haze.... we are blissfully lost in the black atmosphere, with just a beer light to guide us.