INTERVIEW: Dropkick Murphys (Fan-run site)
Mike (Drums) (Hellcat Records)
By: Alex Steininger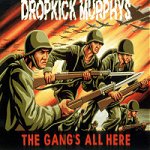 Working class, blue collar Joe's playing punk rock with heart and soul is what the Dropkick Murphys are all about. On their second full-length, THE GANGS ALL HERE, the band once again shows why they're one of the best punk bands out there today. Sitting down with Matt Kelly (drums) on their recent tour, we talked about what is means to be in Dropkick Murphys.

Alex: How did it feel to replace your former singer, Mike, with a new guy?

Matt: No offense to the guy, but it was kind of refreshing. He wasn't really into touring or playing a lot. He liked what we were doing, but he wasn't really into punk. It seemed like a drag to him. So, it was refreshing to get a new guy in there.

Alex: Does he come to your shows in Boston?

Matt: He came to North Hampton, which is Western Massachusetts. He went to that one when the Warped Tour was there. He's in that scene. Ken runs into him more than I do, because I'm in Braintree, Mike's from Dorchester, and Ken's from Quincy, and those two are adjacent to each other. Braintree's on the other side, so I never really run into the guy.

Alex: Are you guys all still pretty good friends?

Matt: Yeah. There is no real resentment or anything like that. He's doing good for himself.

Alex: Was there ever a thought in your mind that you couldn't continue without Mike? Or that you would have to change your name because people would perceive Dropkick Murphys with Mike?

Matt: Well, let me tell you how the band is run. Ken Casey [bass] writes the lyrics and a lot of the vocal melodies, which we then write music around. Him and Rick have been a songwriting team since the band started. Then I came and I started to write a bit. So, the three of us are the ones writing the music, lyrics, and doing all the dirty work. There was no question that we were going to replace him. I know what you're saying though, because some people tend to think of the lead singer as the center of the band. There was no question whatsoever that we were going to go on. The scary part was finding out who we would replace him with.

Alex: Was it hard to find a replacement then, or did you just call upon your friend from another band and grab him?

Matt: Well, the opportunity just kind of presented itself. We were trying out a lot of different people, some friends, and some other kids, and we were almost settled on this guy who was really good, but then Al came home from Europe and had decided he didn't want to do this anymore and was going to break his band up. I mean, they went through several line-up changes and had been around for ten years, and he was just jaded with that band. And there was this rumor going around that Ken had pneumonia, and that is why we cancelled our tour with The Business. He had heard this, so he called up Ken and was like, "How are you doing?" Ken was like, "I'm fine." Al was like, "No, seriously, how are you? I heard you had pneumonia." Then Ken told him that Mike wasn't in the band anymore, so they got talking and he convinced Al to come on down and try out some new songs we had written. And during the first song we knew he was our guy, so we told him he had to do it our we'd kill him.

Alex: Do you think the band has changed since you've gotten a new lead singer?

Matt: Well, Al's vocal style is approached a little bit different. It's more dynamic and, for the most part, harsher. When he sings nice, he can get away with it, and when he sings hard he can get away with it, too. As for the music, it's the same shit we did on the last album. The production is a little bit thicker, I think, which makes it sound a bit heavier. I don't want to say we're stagnating, but the style is the same. The songwriting is better, though.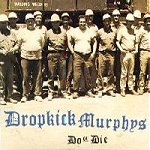 Alex: How would you compare DO OR DIE to the new album, and how would you say they differ?
Matt: They say you have your whole who life to write your first album, but only six months to write the second one. So with DO OR DIE the songs were a bit more mature, because they were around longer. As for THE GANGS ALL HERE, they had only been around for a year. And DO OR DIE was around for two years. DO OR DIE also has more of a Telecaster sound from the guitars, where as the new album has a more Marshall JC 900 guitar sound. And even though we used 800's, they got EQ'ed to sound like 900's. No comment. The new album has better production all around. The vocals are higher up, the bass can be heard more, and even the drums sound better. I don't know, they have obvious differences, but you still have your punk/oi!/rock songs and your folkie songs. The folkie songs are more balanced on the first album, but on the new album they're stacked against each other. The first side is all rock, and the second side is all folk. That might throw people off a little bit.
Alex: What fuels you as a punk rock band? What makes you 'punk'?
Matt: Well, we're all fucking assholes, morons, and freaks, and we just didn't like doing the regular nine to five job. Punk rock is all we know and all we've ever known. I come from a shitty background, and punk rock and hardcore was always my way of dealing with things. The same for the others guys, too. Rich and Ken were in a lot of trouble when they were kids, and it was just kind of their escape.
Alex: What are your band goals for 1999?
Matt: Maybe take some time off. We might be doing Japan and/or Australia in September, either that or go to Ireland and England. We did that recently, but Ken was sick and had to go to the hospital. All we do is play to people and tour, tour, tour. We're taking one month off in August. I look forward to that. I'm going to spend some time with my girlfriend and my family, too. Besides that, just play.
Alex: What do you enjoy and hate about the music industry?
Matt: I try to keep as far away from the industry and bullshit as possible. The whole ego thing comes up and you start going, "Oh, I'm a musician." I hate that shit. I hate the whole industry part of it. I think it's bullshit, and I think it could be handled differently. It disgusts me. I have no remedies for it, though. But the part I enjoy is that this is my job and I get to play music for a living. Rather than work a nine to five I get to do this. It's a lot harder work than I've ever done before, but its a lot more enjoyable.
Alex: Anything that you would change in the band's history?
Matt: I would change the fact that the Randoms crashed our van two days ago. Everything else happens for a reason, so I wouldn't change any of it.
Alex: What are the highest and lowest points you've experienced as a band so far?
Matt: The highest point was playing Dublin, Ireland. That was an insane, crazy, fucking show. I've never seen anything like it before. And we're touring with Motorhead, so that will be a high point. But a low point would be having to put off a tour with The Business. We had a great time with those guys; they're very cool people. Then stopping three/fifths the way through really pissed us off. Also, Wichita, Kansas sucked. It was depressing. We had only fifty people there for Agnostic Front.
Alex: What made you want to be in a band?
Matt: I've been playing drums since I was nine. My dad and uncle were both drummers. I didn't really know anything else, and I love music. So, it's what I wanted to do.
Alex: What goes into good music making for you?
Matt: Trying to be original without being too off the wall. Like Primus, they're original, but they suck. It's very original shit, but it's not rock 'n' roll; it's crap. You need to be as original as possible, but use your influences as flavor.
Alex: What influences you guys to write your songs?
Matt: Hating something...disgust, hate, and even love for things like life experiences. Ken writes a lot of things about life experiences. When he was my age he was a fucking mess. Before then, he has a lot of stories to tell. That inspires him to write songs about his past.
Alex: What do you want the listener to get out of your music?
Matt: Anything they like, as long as they like it. And if they don't like it, I don't give a fuck.
Alex: Anything I left out you'd like to cover?
Matt: Check out Boston bands! Obviously the Ducky Boys, but also The Troubled, The Pinkerton Thugs, The Unseen, Thirty Seconds Over Tokyo, Showcase Showdown, The Vigilantes, Big Bad Bullocks, Tommy and the Terrors...I think we got most of them. Those are all our friends' bands. Boston has a big scene, at least it is big there. Also, write to our label, which is the same as our P.O. Box. It is P.O. Box 697504, Quincy, Massachusetts, 02269. It's for Dropkick Murphys and Flat Records. Ken's wife answers all the mail, so any questions write to us, for a catalog, whatever.