Here
Brooklyn Bank (Invisible Records)
By: Alex Steininger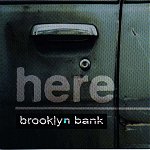 An international collaboration, M. Teho Teardo (Italy) and J.F. Coleman (American) have teamed up to create a sound structured in electronica, but brave enough to progress into the worlds of drum and bass, hip-hop, and rock without leaving the familiar roads they pave for themselves.

Live instruments find there way next to the usual commonplace electronica tools like sampling, electronics, and sequencing, giving the songs a very edgy, real feeling that is hard to deny, and even harder to resist. One minute the band will have you in a trance ("Hacke") and the next minute they'll step forward with some hard pounding dance rhythms that shake with an undeniable force ("No Truck").

The album is structured in a way that will have you in tact and grooving to the music one minute, and sitting back visualizing the pictures that come to mind from every beat the next. They're not afraid to meet both worlds halfway either. "A Bit of Red" mixes an edgy electronica beat with soft piano and guitars, giving the song a blend of everything they're about. It is lively and danceable, but has the trickling emotions to absorb if you wish.

One thing that is for sure, the disc is very lively. It never leaves you wishing for something more, because when the music promises something it delivers. A well rounded, solid disc rooted in electronica; I'll give it a B+.