Thumper
Songs From The Grave (Jump Up! Records)
By: Alex Steininger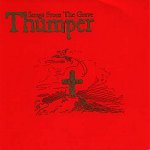 SONGS FROM THE GRAVE is a collection of Thumper's first two releases (RABBIT WREAKING HAVOC and ANOTHER DAY), as well as two live tracks. The compilation tracks the band's mix of ska, punk, metal as they progress and come into their own.

The CD starts out very rough -- a young, underdeveloped band trying to find their own sound as they mix genres and musical styles, often causing a horrible mesh of loud noises with a slight melody to it. There are a few parts where they sound good, or conjure up enough of a melody and ska beat for you to dance to, but the overall tone of the songs are very rough and young.

But, as the disc progresses, they get better. However, the annoying SoundBits of them trying to fight a fire that, it says in the book, really did break out in their practice space as they were writing a new song. These non-musical interludes may give insight into the humor and craziness the band was about, but does little to add to the atmosphere of the music.

Overall, there seems to be a reason these songs ran out-of-print and were never released. The band isn't at their best on any cuts, and just doesn't seem to be that tight. But, like I said, there are a few moments where things go their way. However, that is limited, and the rest of the disc is a very rough sounding mixture of punk, metal, and traces of ska. I'll give it a D+.