The Orange County Supertones
Chase the Sun (BEC Recordings)
By: Alex Steininger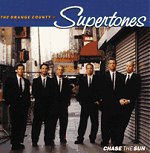 A six-piece Christian pop-ska-rap act from Orange County (as the name applies), The Supertones show some great signs of being a tremendous pop act on their latest, CHASE THE SUN. Unfortunately, the rappy vocals and an overuse of pop hooks often drag them down below mediocrity.

Take the opener, "One Voice," for instance. The verses start out very annoying, rapping their way over a pop-ska foundation. Then, the chorus hits with a huge dose of pop-punk catchy-ness and the song seems to rattle around in your head. All seems to be good, but then they jump back to the ska-rap verses that drag the song down.

But, the whole disc is not like this. It fluctuates between your average pop-ska ditty to some more amazing, infectious pop-ska hooks that will have you dancing and singing along in no problem. "Dedication" and "Health and Wealth," two of the best tracks on the disc, are good examples of the later.

Too bad though, because the few standout tracks are clouded by the other cuts that are either strong portions mixed in with less-than-good parts, or are just all-out mediocre. When the vocalist actually sings, the band has a better chance of keeping afloat. But, he seems happier rapping a lot of the times, which is one of the big problems the band faces. The others are over playing hooks and underdeveloped hooks. I'll give this album a C.