Buck-O-Nine
Libido (TVT Records)
By: Alex Steininger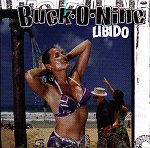 When it comes to pop-punk-ska, Buck-O-Nine has always been at the forefront, while other bands have followed in their footsteps. Blending a pop foundation with ska and punk portions, the band is all about fun, yet they have a message in all their songs. On LIBIDO they continue with their past sound while pushing the envelope to encompass more of the band's influences. The outcome is a sound album that will have you thinking and singing while dancing and having a great time.

"Who Are They?," the first single, and opening track, instantly hooks you. Power-pop with some punk guitar riffs, the song goes straight to your head and just doesn't let go. Hook after hook, the song keeps burning deeper and deeper into your brain. On top of that, the song is lyrically sound, giving it a strong position from every angle. Why, if modern rock radio gives this song a chance, it will be burning up the charts.

Keeping the tasty pop treats coming, "Tell It Like It Was" is another pop-punk ditty that focuses on pop hooks and strong content. Lines like "You gotta girl, said she's a model/Sounds like you've got a big bravado/I'd like it if they'd only tell it like it was" and "Got a job and you make 800 grand/Selling used Isuzus/If the guy on the stage is your best friend/Am I backstage with you?" help capture the potent energy of the song. With strong lyrics, and powerful music to back them up, the song has no problems reaching you and keeping you listening (numerous times).

Expanding on their trademark pop-punk-ska, "Swimming In Sand" displays an expanded Buck-O-Nine. A light, poppy ska number, the song turns down the speed and power of previous numbers and sails forth with an easy, breezy flow that is relaxing and warming. A tropical touch is furthered by the ska flavor, while the gentle tone brings the sunshine.

Calming you down with "Swimming In Sand," "Sunlight" once again revs you up with some more energetic pop-punk that will surely get you bouncing around smiling. More pop hooks fly while the clean sound of Jon Pebworth's lead vocals help make the lyrics part of the driving force behind the song. The soaring horns add emphasis to the already dynamic sound, while the rhythm section carries on with a tight groove that is fueled by the roar of the guitar.

Adding a little more ska flavor to the album, "Headlines" packs a hard punch, though the song isn't as fast or energetic as some of the other tracks found on this album. The power this time through comes from potent lyrics that are carried out quite appropriately by Pebsworth's hard-hitting combination of tranquil moods and sharp tongue on certain words.

Then there is "On A Sunny Day," another super poppy number that feels like fluff at first, simply due to the very tropical pop feel of the song. But, upon closer examination, is just a very relaxed song that flows so gently you can't help but smile when you hear it.

Ending with "Pigeonhole Disease," a more traditional Buck-O-Nine cut, one that would fit in perfectly with anything on 28 TEETH, the band gets you skanking hard while the fast licks of the guitar soar over a hard-hitting rhythm section. Horns blast through the air with confidence, and the pop hooks are thrown at you right before the band jumps into the chorus. Try not to move to this one, and you'll just be hurting yourself.

This is by far the best Buck-O-Nine album to date. And that is no mere feat. 28 TEETH was a tremendously good pop-punk-ska disc, but this time around they've outdone themselves again and expanded on their trademark sound while giving fans something familiar. I'll give it an A+.