MK Ultra
The Dream Is Over (Artichoke)
By: Alex Steininger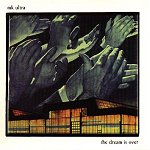 With a unique ability to write rich, textured pop songs that treat both your ears and mind to something special, San Francisco's MK Ultra take indie pop to the next level. Highly infectious, quirky at times, and an overall experiment with different aspects of pop, the band produces tight, harmonious numbers that transform the atmosphere when their sounds hit the air.

Take the title track, which opens the album, for instance. The song starts out with a guitar riff that dances around in your head, and then the full band arrangement comes in with one big hook and the song is stuck on you. The rich layers of vocals -- everyone in the band sings to help make a unique vocal sound -- feel like a gust of wind blowing in your ear, only more tranquil.

"Goodbye, Max!" follows with some string arrangements added to their patent style. As the strings glide in the background, the band spins around with their dreamy pop sound, throwing hook after hook your way. The chorus is tremendously catchy, latching on to you and not letting you break free from its hold. The manage, track after track, to create a very euphoric atmosphere that is as peaceful as sleep, and more beautiful than a garden of roses.

Experimenting a bit, "Heavy Weather" jumps the tempo up a notch and comes clean with a 60's pop sound, mixed in with their standard style, that will make you want to dance, bounce around, and just have fun. Throwing in a few arena rock riffs along the way, the song shakes like the best of pop songs, and breathes arena air. The mixture is quite unique and has to be heard to experience.

Throwing some dark piano into the mix, "Darkness and the Silver Spoon" is light and dreamy, like the rest of the album, but has a mysterious tint added through the use of the heavy piano notes. The song travels along with a bit more aggressive vocals, too, but the band keeps the song fairly soft. Of course, with the piano a big part of the song, the mood is drastically changed and you feel caught in between someone's sadness and happiness.

Ending with "Double Flame," the band choices to end with a song that uses the guitar as the main instrument, with a few string arrangements added to guide them through the trip. Of course, with little instrumentation, the vocals step up and become the instrument of choice.

With a vision and the artistic talent to back it up, MK Ultra creates delicate pop songs that shine like the moon in the night. Beautifully rich, sensitive, and insanely infectious, the band knows their stuff and how to convey their message. I'll give this album an A.