Johny Vegas
Forest Hill Drive (Leprechaun Records)
By: Alex Steininger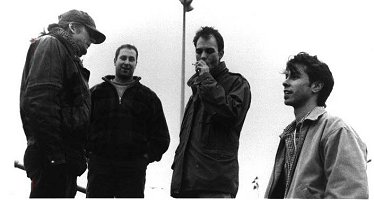 With a strong following in their hometown of Syracuse, New York, the quartet known as Johny Vegas has made a name for themselves by constant live shows and, the all important, releasing good music. Their last two releases have sold in excess to 14,000 units total, and, with the journey ride of pop on their new album, sales should continue to steadily climb.

With a wide-eyed pop sound that encompasses both 60's influences as well as 90's charisma, "Favorite One" opens up FOREST HILL DRIVE with some sweeping pop melodies that are sure to ring around in your head for hours on end. Wrapped around tight hooks are some solid lyrics, so you'll have no problem singing along. Then there is the light rhythm section that fuses perfectly with the down home feel of the vocals and the smooth flow of the guitar. The song isn't timid, but it isn't afraid to be soft and subtle, with the hooks delivering the punches rather than loud guitars and jarring drums.

Then there is "See You Again," which is a pop hit if I've ever heard one. The verses are well written and flow nicely, but it is the charm and sheer infectious nature of the chorus that bites at you and keeps you along for the ride. One listen to this song and you'll be craving dose after dose.

As the disc progresses, the band is able to keep their laid-back pop sound alive and kicking, while also offering up enough energy throughout to differentiate each song and keep you in tune song after song. "My Way" moves and shakes with another chorus that drives over you with an easy-going nature and strong pop essence, while the drums push the song into a more aggressive state of mind. But, the song never gets too demanding or overly aggressive. It keeps its gentle, mental state in tact while pursuing other options through more up-tempo percussion.

"Driving Days," on the other hand, sits back in a rocking chair and slowly moves with the wind. Soft and breezy, with a light shower clouding it, the song is intimately calm, and what seems to be truly heartfelt. As you sit there and chew on everything, you'll feel the emotional pull the band is going at while reflecting on everything going on in your head.

Of course, the band stirs things back up with "Grandma's Silverware," which is an ode to their former manager. Packing an up tempo beat and a pop hook or two to boot, the band lays down one of their most bouncy numbers, while still keeping the song relatively gentle in nature. Simply put, here is the rock part of the band shining through.

But wait! "Beautiful Train," the disc's finale, is the band's "stadium rock" number. Amped up guitars, lots of distortion, and a meaty beat make this song stick out like a soar thumb. Different enough to make you take notice after forty minutes of music, yet still familiar in structure, the band wraps up things nicely with this all-out rocker Johny Vegas style.

If you thought pop music is all about what you're being fed on the radio and on, dare I say it, MTV, then you have another coming when you listen to Johny Vegas. This is pop music, not modern rock. Catch a hook and ride it all the way through, as it sticks in your head and won't go away. I'll give this album an A-.