Watch It Burn
Why Wouldn't I (Little Kid Records)
By: Alex Steininger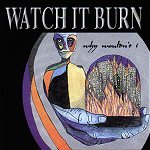 From California comes Watch It Burn, a four-piece punk rock outfit that is nothing more and nothing less. With a slight hardcore tint to their standard punk rock sound, the band blasts through song after song with an intense, burning purpose in their sole, which is captured on their latest, WHY WOULDN'T I.

The problem with Watch It Burn is they don't have a distinctive sound, and their vocals aren't that, well, good. They work with the music, but they don't help set the music apart from anything, or define the music and allow it to create its own style. Instead, they just help the music blend into the standard issued punk that is all around us.

The music is good, tightly composed, and has a nice drive to it. And that counts for something, because when you listen to this disc the energy will hit you in the face until you take notice. But, without characteristic vocals that help define the band, and set them out on their own, the band's usual, predictable style just doesn't muster up enough force to keep you listening.

A first time hardcore fan may find comfort in the familiar punk sound with a hardcore tint to use as a stepping stone into more straight on hardcore, but other than that they seem too much like your run-of-the-mill punk band to really take notice. I'll give the album a C-.