Tenpin
Universal (Little Kid Records)
By: Alex Steininger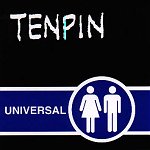 Recent transplants to Portland, Oregon, the addition of Tenpin's pop-punk to the Portland punk community has made it that much more rich. With a band this active, lively, and, well, this damn catchy, any scene would be proud to call them locals. On their Little Kid Records debut, Tenpin spins through pop hooks with a huge punk appetite.

From the opener of "Snap," the band quickly sets themselves apart from the hordes of other pop-punk bands out there. It's hard to maintain your individuality in a genre this over-saturated, but Tenpin manages to do so through a warm combination of pop melodies and punk chords.

On "Rain Day," a minute and twenty-four second ditty that goes by like a rocket, the band cruises through punk territory with fuzzy guitars, striking rhythms, and very clear, melodic vocals (the key!) that push 'universal' lyrics that almost anyone will be able to relate too. And, when you can relate to music that you're already bouncing around with, it grows in your head and just won't give away.

Of course, "Crayon" displays the band's pop potential nicely. As they rip through their usual punk mayhem, the pop hooks are absorbed and thrown back at the listener. As you sink your teeth into each juicy note, you can't help but feel your teeth rotting on the sugary taste that each note carries. The pop doesn't take full control though, because as the songs go down, the jagged edges cut through you with an intense force, so you better look out.

The band knows when to be poppy, when to drive right through you with fierce punk licks, and when to sit back and have a good time (which is all the time). They know what they want, what you want, and how to achieve it all. With so many punk bands out there today, it's hard to pick up a new band and really get into them, but that won't be a problem here. All the pins are down and the game is won, as Tenpin shows you what champions they are. I'll give this disc an A-.