Sick Of It All
Call to Arms (Fat Wreck Chords)
By: Alex Steininger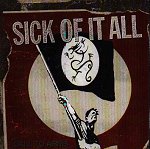 For the past thirteen years Sick of It All has been the blood in an ever-growing hardcore scene extending throughout the world. Helping to shape the scene, and the sound, as it is now known, the band keeps delivering the goods on their fifth, and first for Fat Wreck Chords, album.

On the opener, "Let Go," the band rips through harsh, politically strong, and very abrasive hardcore punk that is sure to make the hair on your neck stand straight up. As they pound on their instruments and scream, straight from the heart, the lyrics they feel so much, the music seems to come alive with pure, un-compromised spirit.

Letting up a bit, and allowing some pop to leak through, their first single, "Potential For A Fall," is one of the most infectious hardcore songs I've heard in a few years. The backing vocals add a sweet melodic sense, while the main vocals, and the drive of the instruments, keeps the song on its toes at all times. As always, they construct powerful lyrics on top of a rock-solid foundation and let the shit hit the fan as they go at it will all they've got.

Tearing it up some more, "Morally Confused" once again pits the head-on attack of the rhythm section against the screams of the guitar and vocals. Manic and wild, the song keeps their trademark hardcore fury lively and free. With the word political stamped over every note, word, and breath the song indulges in, Sick Of It All keeps your mind working overtime as you process the message and the music at the same time.

Of course, this continues all throughout the album. There isn't one moment that the band doesn't remind you just how powerful, loud, and, well, good they are. Ending with "(Just A) Patsy," the disc doesn't even hint at an end. It never shows signs of being tired, it plays through until the last note and makes you leap across the room to replay the whole thing for more of the blood-rushing, punk-fueled anthems that will ring around in your head for weeks on end. Definitely a stand out hardcore disc from one of the best, I'll give it an A.