Pea Shooter
Pea Shooter (Imperfekt Records)
By: Alex Steininger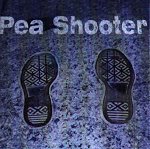 Hailing from Pennsylvania, Pea Shooter is your standard pop-punk quartet mimicking their influences, such as The Ramones, The Queers, and Screeching Weasel. Basically, Lookout! Records style pop-punk. A bit too happy and bouncy for the Epitaph Southern Cali pop-punk label, the band bounces and dives head first into sweet pop melodies, coupled with a punk drive, that is all too typical. But hey, if it works, don't try and fix it. And, although this theory leads to clones and "if you've heard one, you've heard it all" ideas that surround punk these days, which is the case with Pea Shooter, there is still some fun times to be had here.

The opener, "Waiting For Her," is charged with amped up guitars, hammering drums, and the non-stop pounding of the bass, while the pop aroma bounces and jumps around with every note. So infectious and catchy you can't stop listening, you'll recognize this isn't anything original or new, but you won't care. You'll keep listening.

The lyrics and topics at hand also mimic that of the other bands in their genre -- songs about girls. But hey, there is nothing wrong with that, just keep saying what has already been said in different ways and some people who couldn't relate before will be able to relate with you.

"Girl I Never Knew" once again jumps and bounces around with more pop-punk sugar that will go down smooth and stay with you all day. Bouncing off walls and smiling with such a happy expression on your face, it's all about fun, and that is what this band delivers.

Never letting go and always delivering good clean pop-punk, Pea Shooter may not be original, but they're fun. And that counts for a lot. While listening to this disc you'll forget all your other troubles and just have fun. I'll give this disc a B.