Loadstar
Loadstar (Little Kid Records)
By: Alex Steininger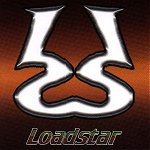 A tight three-piece that can pack a punch and still leave room for you to latch onto some quick pop trips is hard to come by. But, Santa Cruz's Loadstar delivers the goods on their self-titled release. Sweet enough to get you to listen, before they tear up your mind and let loose on some wild punk, nobody will deny the power of this album once they've listened to it.

"Too Far," "Neighborhood," and "Innergy" all set out to rock and never let up. And, guess what? They do so with a powerhouse of a rhythm section that glides over notes as the soaring fuzz of the guitar burns through power chords with speed and fury in mind. Then there is the soft(er) intros and portions of "Downward Progress," "Disengage," and "Wasted Daze" that set you up before crashing down on you. They'll start you off with some gentle riffs, which slowly builds up to the punk portion of the song, and then burst into a colorful blast of speed, mayhem, and sweaty melodies that will lash out at you and make you want to react in some sort of way.

They'll jump out at you and let loose, they'll build up to the spot where they want you to be before they dive head first into punk, or they'll sooth you over before taking over your body. Anyway they do it, they do it, and that is what matters. Hearty pop portions sit well next to plenty of punk, which make this a splendid album to race, bounce, and sing-along with. I'll give it a B+.