SHOW REVIEW: 3rd Annual Battle of The Bands
March 12, 1999 -- Portland, Oregon (Satyricon)
By: Sonya Brown



The 3rd Annual Battle of The Bands was held at Satyricon on March 13, 1999, with extremely diverse bands battling it out before a panel of judges to determine who would take home the prize and win Satyricon's title for best band. Five bands drew straws to determine the line up, and each had 30 minutes to win over the judges and crowd.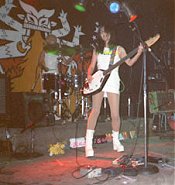 First up were the X-GIRLS from Japan. Even though they did get one of the worst possible slot to fill, these cuter than cute girls poured it out and left the other bands struggling to figure out how they were possibly going to follow such an act! This trio wooed and wowed, though they had just done an in-store in Seattle, and another in-store at Music Millennium earlier in the day. With their broken english and futuristic Japanese look (complete with vinyl dresses and white boots) not only did they look absolutely adorable, but they played strongly with their vocals intermingling to perfection. I'm sorry that I didn't pick up a copy of their CD that night, but next time I'm down at Music Millennium I plan to correct that problem.

Next up were the GODDAMN GENTLEMEN. Ok, I have lived in the South (Lubbock, Texas); and I also once (a very long time ago) unwittingly attended a Southern Baptist sermon (actually I was brought there by a date, apparently the poor guy thought I was in need of salvation). Before I could sneak out of there, I got a good dose of heavy pulpit pounding with visions of fire and brimstone and eternal damnation. I managed to escape (and avoided answering my phone for the next several weeks) but these "Goddamn Gentlemen" could have knocked that preacher right off his pulpit. No, not with religion, but with the pure booming razzle dazzle and mannerisms that go hand-in-hand with saving lost souls and bestowing upon them the power of the spirit of music. It was quite fun, and my favorite tune was called "Murderin' Man". Are you sure they are from Portland? I could have SWORN I heard some Lubbock in there.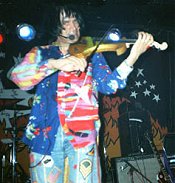 Third in the line-up was Portland Legend ROGER NUSIC. Now, I HEAR he is a Portland legend.... I haven't actually lived in Portland long enough to know this first hand... but judging by his look, I have to say I agree with that statement. What a character! Well, take a look at the photo, I can't do him justice. I hear he sometimes performs with a band, but this time he was solo... relying upon electronics and his own sheer talent. He was a comic wizard, absolute crowd charmer (constantly leaving the stage to 'be with the people'), and a wonderful guitarist and violinist. I loved the personality that dripped from him. You just have to love a guy who can sing a song called "When I Was a Girl" and tells you to buy his CD entitled "LLLLL" (???) Portland has some of the most wonderfully eccentric personalities. I can't wait to catch this legend again!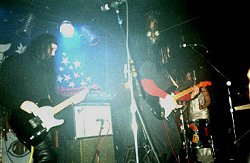 OK, time to dim the lights for gothic band Written In Ashes. Even the X-Girls had their cameras out for this band. If, for some reason, I have failed to bestow upon you (in past articles) my appreciation and admiration of Written In Ashes.... do yourself a favor and just go find out for yourself. The song "Nightfeast" (which is featured on the new Cleopatra Release the "Unquiet Grave") capped off their breathtaking performance to a delighted crowd.
And, last on the agenda, was CAMARO HAIR. While I found Camaro Hair a bit 'pop-ish' for my tastes, they did manage to detain the crowd for the rest of the night. I wish I had paid them a bit more attention, since they (for some reason) received the biggest post-writeup by local Portland press, but it was late and I was rather tired. I did enjoy the giant blow-up Godzilla they had on-stage during their set.... but the other performances of the night left a more vivid impression. Blame it on the luck of the draw (their unfortunate place in the nights lineup), or the fact that the other performances were so distinctive.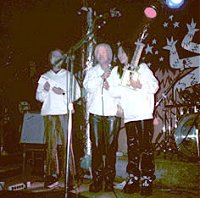 Finally it was time to announce the winners...... (drum roll please)..... X-GIRLS! They really were quite wonderful and so incredibly grateful and sweet. Be sure to look for their CD at Music Millennium next time you are there..... as well as the CD's from some of the other bands I have mentioned.
What a blast! I can't WAIT for Battle of the Bands 4!