STORY: Orgy
By: David Jenison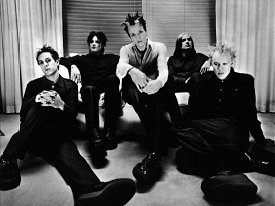 SoCal's Orgy has the distinction of being the first release on Korn's new Warner-based label Elementree Records, but the band's current radio hit, a cover of New Order's "Blue Monday," is distinguishing the band on its own merits. Still, even before they toured the nation on the Family Values Tour, the members of Orgy - Jay Gordon (vocals), Amir Derakh (g-synth), Ryan Shuck (guitar), Paige Haley (bass), and Bobby Hewitt (drums) - earned a reputation that says this band lives up to its name. For example, when Orgy members visited Korn in the studio while they recorded Follow the Leader, both the producer and Korn's management had to throw Orgy members out for their wild and distracting behavior. When Orgy had their own studio time to record Candyass, no one could throw them out so they partied to no end. Regardless, they were able to record twelve amazing cybernetic rock songs that feature solid hooks while mixing such influences as Korn and Skinny Puppy. Writer David Jenison spoke with the members of Orgy the night before they did a show in Tulsa, and it seems all the Oklahoma country love put the band in perfect rambunctious form.

I've heard that your time in the studio was quite a party.
"We recorded up near Tahoe," says Ryan. "We let anyone come to the studio and party with us, so it got really crazy. People were riding their snowboards down the studio stairs. Others were using Bobby's drum case as a sled. Others still were trying to water ski on the snow with a 4x4 truck and a nylon rope."
Amir adds, "There were even people riding this little bicycle off the roof of the studio and into the snow. One guy was so wasted that he broke his tooth when he landed and then tried to pull it out with a pair of pliers."
"We had no idea who the guy was either," adds Jay. "He hung around for days. People just kept coming to the studio because they heard that's where the big party was. We soaked the floor with beer every night. We had fights with telephones, chairs, and batted dishes from the dishwasher. We had a maid, but when she came, she'd just drink beer and do drugs with us. The record label was a little pissed that we did so much damage, but we paid so much to record there that we deserved to have a little fun with the place."

Bobby, I hear you are married to Shane, the adult actress. What is that like?
"Shane is totally awesome, but I don't want to talk about it," answers Bobby.

Is it true that she brings other girls to the bedroom for both of you to share?
Bobby smirks, "Possibly. You know, I really shouldn't talk about this." Ryan yells, "Don't hide it! Just admit that she does!"

How do you feel about being the only married man in the band?
"I don't care because I'll just go in and watch the other guys," says Bobby. "He'll run the video camera," laughs Paige.

Orgy was very much a brand new band when you signed with Elementree/Reprise Records. How many songs did you have going into the studio? Jay answers, "We only had one and a half songs, but we had hundreds and hundreds of parts. We recorded many of these parts and then stitched them together to see where they worked best. We also had a rehearsal space at the studio, so we took the songs there and made sure they worked live. The album definitely came out the way we hoped, but we didn't have a big game plan going in. Our goal was to be different. We did everything by the seat of our pants. It's the only way it works for us."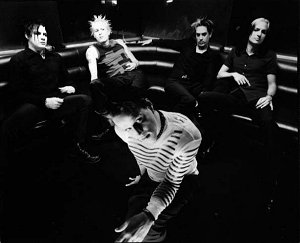 You had an impressive first week with nearly five thousand records sold. Since you hadn't played before the release of the record, to what do you attribute this?
"We were pretty surprised ourselves," responds Jay. "We got a lot of radio adds right away, so I'm sure that attributed to the sales. We've done a lot of press. We also can't say enough about the label and our management, who are both doing an incredible job. I would guess the biggest influence, though, was Korn. They have really gone out of their way to promote us on their website and in the interviews. They have done a lot for us."
Where is your favorite place in Los Angeles to hang out together as a band?
"Crazy Girls," yells Paige, referring to a local strip club. "The place is like Cheers to us. We go so much that they give us the VIP treatment. The owners are also bail bondsman so they provide a bunch of great extra services."
"We are in with a lot of strip clubs," says Amir. "Actually, I think our CD is most added at strip clubs across the country!"
How would you best describe Orgy?
"Everywhere we go, some bad shit happens," answers Amir, "and we're just getting started."