Abuse*Ment*Park
Electric Spanking Session (Surf Records)
By: Alex Steininger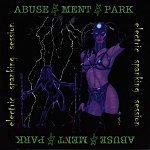 In the days of genre-hoping bands and eclectic artists, Abuse*Ment*Park stick with what they known -- heavy metal. Hands down metal, they never stray from what they love, and it shows in their music. This four-piece from Tempe, Arizona plays fast, heavy, loud, and with all the screams.

Though they love their music, and are perfectly honest throughout, they still can't escape the fact that the only abuse someone will suffer from this is the kind they get from listening to it. Harsh, I know, but there is nothing special here, nothing worth hearing again. This has been done before, will be done again, and doesn't even have a "signature" sound. The freakish lead singer has been played to death, and all other gimmicks are lost. Like I said, nothing new, nothing worth taking notice.

If you like heavy metal and are that pressed for some new stuff, you might want to check these guys out. Otherwise, stay clear at all costs, or you might come back with some real abuse to the ears and start crying. I'll give this album a D.