Inspecter 7
Banished to Bogeyland (Radical Records)
By: Alex Steininger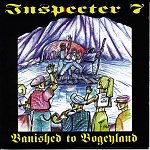 Blending ska, reggae, punk, and oi!, Inspecter 7 comes out with a highly danceable ska brew that makes you want to drink first, dance second, and have a good time all the way through. The follow up to their debut, ...THE INFAMOUS, is a thirteen track album that will find you BANISHED TO BOGEYLAND.

Opening with "The Game," Inspecter 7 once again sets themselves up as one of the premiere ska/oi! bands out there. The street punk/oi! influences are very apparent through the vocals, while the ska instincts the music lives on are clearly defined through the use of a tremendously hot upbeat and a fueled, danceable rhythm section.

All of Inspecter 7's music is fast and very up-tempo, but they're not afraid to put it all out on the line and work you to the bone, as "Regret II" will teach you. Fast indeed, while still maintaining the jazzy horn section and a ska base (they never venture off into ska-punk land), the band dashes you across hot coals as they burn your soles (read: souls) and get you moving along with every note they play or ponder.

But, what would a punk-influenced band be without a political commentary on sexually transmitted diseases? Well, in a humorous manner, Inspecter 7 touches upon this subject. They never preach or take themselves too seriously, so while they're cranking out the humorous lyrics, the band is playing music you can be happy and dance with. Not the kind of thing you want to do when thinking about STD's, but Inspecter 7 knows how to make it work while putting a smile on your face.

They also deal with band members who drink too much and somehow pull of their set on "Skoochie's Ruin," dedicated to Lord Skoochie, their tenor sax player. Just like all their other songs, the music is bouncy and very danceable, while the singer touches upon semi-brutal lyrics that give the music an edge. As he sings, then shouts, his words are playful, giving the music a jolly lift. Ending with the title track, they slow things down a bit, but still leave plenty of room for you to get down and boogie. Slowing down for them, though, although at a moderate level, is fast for some other bands. So, no matter what, they're always going to give you the goods to move too.

With ska old news as far as majors are concerned, it's good to know there are still quality bands putting out quality stuff. Inspecter 7 is one of these fine bands that just keep going at it for, well, the love of the music. Can you believe that? I'll give this album a B+.