Wellwater Conspiracy
Brotherhood of Electric: Operational Directives (Time Bomb Recordings)
By: Alex Steininger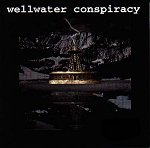 With a pedigree of hard rocking pasts, John McBain (ex-Monster Magnet) and Matt Cameron (ex-Soundgarden) have gotten together to lighten things up a bit, whipping up psychedelic pop-rock with a rougher, experimental edge.

Not a fan of their past bands, I didn't come into this album is the highest of hopes. And well, when I first put it on I couldn't stand it. The opening organ and piano of "Destination 24" gave me the feeling that this was going to be a very experimental rock album with few actual rocking moments. Then "Teen Lambchop" came along, and although I liked the 60's pop feel mixed with a psychedelic breeze and a twisty rock groove, I still wasn't feeling the music as I'm sure it was meant to be felt.

Then "Red Light Green Light" came along and I started to warm up to the disc. The poppy, 60's tradition was furthered by tossing in a power-pop engine, which provided all the energetic hooks I tasted and loved. Of course, the hip-shaking, body-grooving vibe of the organ flowed very nicely through the river of rock, and made the song that much more refreshing to me. With the chorus, "I'm so green, and you're already red," echoing through my head, I finally began to "get it" and enjoy the disc.

There is also the experimental, sampling-based "Dark Passage," which helps place the 'experimental' label next to the obvious rock tag. But, that's not what the album excels at. Charged rock like "Good Pushin'" is what the album, and the listener, will thrive on.

But, ending with two experimental numbers, "Dr. Browne Dr. Greene" and "Jefferson Experiment," Wellwater Conspiracy delivers on their promise to "create their own path." I'll give this album a B-.