New Vintage
Changing Times (Pinecastle Records)
By: Alex Steininger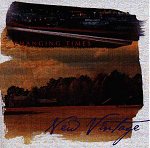 With two previous releases under their belts, as well as competition victories like 1994's Pizza Hut International Bluegrass Showdown, New Vintage have come a long way in a fairly short amount of time. And, on their latest release, CHANGING TIMES, they prove that, though the times are changing, they're up their riding along and staying ahead of the game.

Starting out with a slow-burning, but impacting, number, "Next To Nothing" catches you off guard and treats your ears to some good bluegrass. The song moves slow, and takes the chorus to really get you into, but once the chorus comes along you'll be sweetly entertained.

The rest of the album moves like this too, although it doesn't always take the chorus to get into them. Sometimes it just takes a few seconds for the song to really get going. Then there are songs like "Old Chain Gang," with the hot-picking banjo running through the song, which instantly shoot through your body and get you going without a second thought.

Not the most up tempo, let's dance bluegrass disc, but it does offer plenty of steps when it gets going. After your first listen you'll enjoy it, but after a few listens it will just keep growing on you. I'll give it a B-.