Weston/Doc Hopper
The Stepchildren of Rock (Go Kart Records)
By: Alex Steininger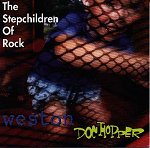 The only thing better than hearing good music is hearing good music live! Of course, you can't see and hear your favorite bands every night, so Go Kart Records has come up with a solution. They've put the tremendous pop-punk sounds of Weston next to the punk attack of Doc Hopper on a live split CD. There's concept that just might work, and, magically enough, does.

The CD starts off with sixteen tracks from Weston, recorded at the Pipeline in New Jersey on April 8, 1997. Such Weston standards as "Teenage Love Affair," "Retarded," "My Favourite Mistake," and "Varsity Sweater" sound great as the band hammers away, with both a sense of seriousness and humor, song after song.

Post-song chatter makes its way onto the disc, helping to light up the crowd and put even more humor into their set, but the true focus, as it should be, is on the music. They don't waste time with the chatter, either. They stick with quick announcements about the next song or thank the crowd, and then bust right into the song with a tremendous fury.

Of course, if you've heard Weston before you know that their generous helping of pop hooks set nicely next to a punk energy level that is sweaty and aggressive, but with their songs about girls and fun, they always keep things on the light side. Simply put, it's pure pop-punk perfection from one of the best, and I mean it, pop-punk bands out there today.

I sure wouldn't want to follow Weston, but Doc Hopper seems up to the challenge. These Boston by way of Maine boys just released their debut full-length for Go Kart Records entitled ZIGS, YAWS AND ZAGS, and offering up a taste of what can be found on that full-length, these thirteen live selections shake, rattle, and roll with true punk fury.

Where Weston was bouncy and fun with their pop hooks, Doc Hopper is charged and speedy, throwing in throbbing rhythms mixed with guitar riffs so speedy and fast you could probably create shredded cheese if you had a block of cheese rather than a pick.

Songs like "Alttona," "Loaner," and "Kiosk" display the muscle their music is capable of, while "She's a Coke Head," "Melcher," and "Sunny Girlfriend" hint at the pop capabilities this four-piece is capable of. But, don't get the wrong impression, these guys are nine-tenths punk and one-tenth pop for some hooks you won't be forgetting.

Within one track from Weston you'll already be hooked, but of course Weston just keeps the good times coming. Doc Hopper speeds things up a bit and gets your blood pumping faster and faster, making for a nice combination. There are a few times when Doc Hopper's vocalist drags the music down, but for the most part, these guys can rock. I'll give this album an A.