NoMotiv
And The Sadness Prevails (Vagrant Records)
By: Alex Steininger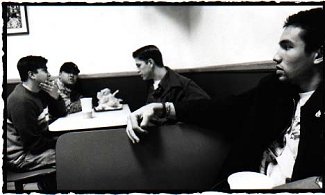 Punk rock with an emo side to it, NoMotiv knows how to crank up the amps and just start to rock 'n' roll. They'll blast and jam away one minute ("Sunday at 6:00" and "So What") and then the next minute they'll throw in some emo ("Waiting Hurt" and "Solemn"). But even when they throw in the emo, don't look for them to soften out and go weak. Rather, they sprinkle the punk in as well to help drive the feeling home.

They never serve up the same blend, either. "Waiting Hurt" is a full-on emo song in a rock atmosphere, while "Solemn" jets out with the emo hiding behind its punk rock big brother. But, if you're a punk rock purist, you'll probably want to stay away, because even when they go straight ahead with their punk rock, like on "Mid-Season Change," "Tribute," and "Shells," the emo still manages to slip into the music and make an impact. But, if you like your coffee (punk) with some cream (emo), this is just the drink for you.

Chalk full of energy, beefy bass lines, stinging guitars, and a drummer that knows how to take his aggression out on his kit, this album temps emo and punk kids alike. I'll give it a B+.