Doc Hopper
Zigs, Yaws & Zags (Go Kart Records)
By: Alex Steininger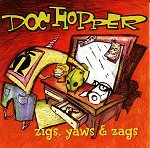 Taking their punk from the backwoods of Maine to the big city life of Boston, Doc Hopper promises to shake things up. And they do on their debut for Go Kart Records, ZIGS, YAWS & ZAGS. They're not the best punk band, but they have their shining moments.

Going from the split live CD between Doc Hopper and Weston [see review this issue -- March 1999], they have a lot of intensity and energy going for them live. But, that sort of spirit, although present sometimes, just doesn't seem to want to stay. There are a few exceptions to the rule, though, as in the case of "She's a Cokehead." The vocals are dead on, the music is solid, and the band couldn't be more at their peak. The songwriting is humorous and laid-back, but still serious enough to actually listen to over and over again (underneath all the drug humor lies a message, you'll see).

But then there are songs like "Loaner," which has an annoying verse, but a sticky chorus you just can't pull yourself away from. And when the band goes soft(er) like on "Bright Eyed and Bushy Tailed," the band is able to keep the striking guitars loaded and ready to snap at any time, while also leaving a soft touch to the music to make it go down smooth.

Too bad the whole disc isn't like this though. There are some great moments contained within these eleven tracks, but then there is the non-so-memorable moments that lose the piercing, 'stop-and-listen' attitude that won't allow you to take your ears away from the music. Guess you just can't have your cake and eat it too. I'll give this album a B-.