SHOW REVIEW: Nation of Fear w/Sumerland and Written in Ashes
February 1, 1999 -- Satyricon (Portland, Oregon)
By: Sonya Brown



Nation of Fear is Brian Tutunick: Voice; Danny Green: Drums, keyboards, computers; Terry Lapointe: Keyboards, Samples & bkg vocals; Ashley: Guitars, bkg vocals; and Grynch: Turntables, PowerTools and Fire........Yep, PowerTools & Fire!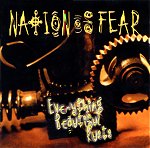 Nation of Fear performed at Satyricon on Monday, February 1, 1999, amidst a shower of fire and sparks to promote their new CD, "Everything Beautiful Rusts". With the help of a metal grinder, sparks were flying in more ways than one due to Brian's rabid vocals and the explosive sound of Nation of Fear. Don't get me wrong.... this is no 'Jackyl wielding chain-saws' band...... Nation Of Fear is a heavy industrial band fronted by former Marilyn Manson member Brian Tutunick. The addition of power tools only adds to the music, it does not overpower it. As Grynch told me after the set, "anything can be music" and we discussed the unusual percussion choices of Sumerland's Enrique as a prime example. Enrique adds a bullet shell casing and large plastic washing detergent tub to his drumming repertoire.
Grynch tells me he uses a 30 gallon drum that he acquired from a construction site that he worked at (prior to touring with NOF) to contain the fire that burns center-stage during part of their set. He said they had several barrels that were used for construction debris, so he added it to their show. It makes a great visual enhancement to the performance of "America Burns", where Brian wears a flag draped over him and the set is literally blazing. Torches are also used to magnify that effect.
Nation Of Fear credits opening slots for bands like Front Line Assembly, GWAR & Genitorturers, so it seemed rather unusual that they were performing with local Portland gothic bands Written In Ashes and Sumerland that night, but it made for an absolutely riveting night in my opinion. Written In Ashes had also performed with them at their Boise, Idaho show, and I think they compliment each other well and lure a diverse and unconventional crowd.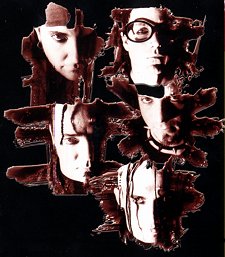 Nation of Fear's CD "Everything Beautiful Rusts" was released in late '98 on Indie label DiMar. My favorite track, by far, is "America Burns" (we don't need no water let the motherfucker burn!), but the entire CD doesn't let up from beginning to end with a unfaltering bombardment to the senses. Other noteworthy tracks are "Puppet Show", and "The Business".
Something else that impressed me about NOF (and don't let this get around!) is how congenial they all were, and how much I enjoyed meeting them. We compared nailpolish, jewelry, and clothing in a fun and relaxed atmosphere that continued until Satyricon was closing for the night.
You can contact Nation of Fear at http://www.nationoffear.com; and be sure to check out the photos and links to some impressive sites..... Genitorturers, Jack Off Jill, Spooky Kids, Misery Machine (a Manson website), and many more wonderful places you will want to visit time and time again.
According to Nation of Fear, the "Rubber Revolution Has Begun". So bring on the sparks and let the revolution begin!