Faith Evans
Faith Evans (Bad Boy Records)
By: Sylvia White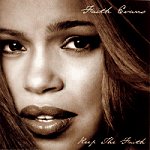 Faith Evans, R&B soul diva, has hit the ground running with her sophomore release off the Bad Boy lable. In what is becoming a hit after hit album already, we see and hear a more mature Faith with stronger vocals, somewhat matured material and a more conservative feminine persona. Under the wing, once again of super-producer, Sean "Puffy" Combs, Faith Evans has combined a bit of hip hop, soul, and R&B with the result being a strong collaborative effort by all parts involved. With a new love and new life in tow, Faith is making personal and professional strides it seems.

What grabs me most about this album is the stronger vocal styling that Faith is now contributing. Gone is the whispered wails of a diva in training, she has reached her plateau and found her vocal diaphragm, thereby causing her to belt out the riffs and hums. I'm not sure if it is due to the new babies in her life or merely increased vocal training but she is thankfully putting more gospel feel into her material. This 15 track project has many high points.

On tracks like, "Love Like This" and "All Night Long", which features a rap verse by Puffy Daddy, the two dance tracks are already taking the music scene by storm with a stream of constant radio and video air play. Both are noteworthy and truly catchy up tempo tracks that have Faith's newfound vocals wailing with beautiful strength from beginning to end.

On "My First Love", Faith takes on a drone vocal effect that is deliciously at ease and precise in her deliverance. She shines in this track simply because she does not attempt to over-accentuate the lyrics or her delivery. A favorite! "No Way", is another of those tunes in which Faith gets to the heart of the matter with sincerity and patient expression. This slow tempo track has this vocalist belting out in pretty perfection. On the title track, "Keep The Faith", we hear her tribute to God and his powers to sustain her in her weakest of times. Her tribute runs along the lines of obligatory, still very nice production though. On "Never Gonna Let You Go", the only track produced by the always wonderful, Babyface, Faith gets help as only Babyface can deliver. I have a feeling that this will be another hit out of this collection. The sentiment, the instrumental balance and Faith's vocals will make sure of that. "Caramel Kisses" has Faith teaming up once again with lablemates, 112, on this slow tempo track. Nice collaboration on both parties behalf though the writing could have been a bit stronger. "Lately I" is the final track that shows Faith at her most somber and heartfelt. The track has Faith showing off her power to wail through her gospel roots. You can hear as she reaches deep within to get each lyric out. It is a beautiful contribution.

This album overall gets a strong 4, leaning towards a 5. With stronger lyrical material, then perhaps she may be able to jump the fence into having a more diverse album. A few tracks left something to be desired due to empty lyrics, the only saving grace was her strengthened vocals. Faith's renewed persona and refreshed vocal abilities are forcing me to wonder how she could possibly go wrong this time out. With the baggage of her past relationship behind her, Faith Evans is now sprouting her wings and soaring. She is coming into her own femininity, her own sound and her own style. This album is merely an extension of the well-rounded woman she is becoming. Pick up your copies today R&B fans!