Skinnerbox
Demonstration (Triple Crown Records)
By: Alex Steininger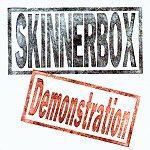 One of the originals on the New York ska scene, Skinnerbox was leading the way with a few select other ska bands when nobody was following. When you couldn't give away ska records, let alone make a living off of playing ska music, King Django was there with his Skinnerbox crew having a blast.

After label troubles forced King Django to put a new Skinnerbox full-length on hold, he decided to get together with the band and collect demos they'd record to release something to help curb fans' appetite for a new Skinnerbox disc. DEMONSTRATION is that collection -- fourteen various tracks the band has recorded for compilations, 7"'s, and demo material.

Starting off with a ska-punk rocker, "Trying To Be Cool" is King Django's take on people who believe "dress the part, be the part," as if any musical movement was rooted in the clothes you wear. Summing up the song perfectly, the second verse has it all: "And I've been kicking around this part of town/Since before you ever had a conscious though/So you better believe me/I can see you think identity can be store bought." The music isn't as appealing as Skinnerbox material in the past, neither are the lyrics for that matter, but the overall message and expression are what make King Django a strong voice in the ska community.

Mixing a swing beat with ska, "You Rascal, You" takes a bit of time to warm up too, but once you do the song stands out as one of the top tracks on this disc. Still apparent the song is a demo, and probably not originally intended for a full-length release, the song lacks in quality and tight musicianship. But, even with the loose feel, it still manages to shake you a bit and make you move. Django's voice is the main thing going for this song, as it slips in a lot of humor with the music, making you wonder if you're supposed to laugh or just smile when you hear it.

Written, recorded, mixed, and sent off to the pressing plant in one day, the spontaneity of "Hepcat Season" easily makes it the stand out track on this disc. Previously released as a 7", King Django proves he is one of the hottest DJ's in the ska scene with this number. Not only can he chant and spit out the words right up there with any DJ, but his lyrics are clever and devilish. Putting Hepcat's "Open Season is Now Closed..." to shame, adding this to the disc helps hook you and give the album more than a one-chance listen.

Helping to add to the demo feel of the album is the addition of several cover tunes, including Iggy Pop's "No Fun." It took a bit of time to get used to, but after a few listens the bouncy feel of this song will get to you and send you dancing. Let's be honest, the song is nowhere near Iggy Pop's, but standing on its own it is a quite fun ditty. Letting it all fly, the band seems to be having a blast playing this tune, with no worries on their mind, which really helps translate on to the listener. The music is fun, what more could you ask for?

Back with the ska-punk, "Ska, Punk & Disorderly" has a few hooks that catch your attention for a few seconds, but the overall demo, loose feel of the song, and the sheer thrown together ska-punk groove, makes it a hard one to really get into. As with a lot of stuff on this disc, King Django puts a lot of energy and heart into the song, but his complete attention and feelings toward the song doesn't seem to co-exist with the energy. Which makes it hard to fully swallow.

Ending with a fluffy "Happy New Year" song, the pop bounce to it makes it tolerable, but also makes it sound a bit watered down. With the new year coming up, though, it seems like a very optimistic, cheerful number to ring in the new year with.

Not the full-length Skinnerbox was expecting to put out, this collection sounds exactly like what it is -- a collection of demos. Rough and loose, the majority of songs seem to be hastily thrown together or recorded just for fun. Still in the early development stage, the songs leave a lot to be desired. Although, there are some bright moments here. And, the band seems to be having a hoot, which rubs off on the listener and is worth a few hours of fun. I'll give it a B.