Hipster Daddy-O and the Handgrenades
Armed and Swingin' (Slimstyle Records)
By: Alex Steininger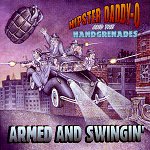 A six-piece from Tucson, Arizona, Hipster Daddy-O and the Handgrenades are easily pushed off into the neo-swing revival category. But swing is only a portion of what they do (and not the biggest one at that). Fusing punk, pop, ska, and blues, and jazz into their mixture of swing, the band comes off as a very swingin' brand of punk rock more than they do a swing band. This is a good thing though, because this is some of the most action-packed, vigorous music I've heard in a long time.

Starting off with a few surf riffs, "Daddy-O" soon kicks into some swingin' horn lines with a powerhouse guitar backing them up. Then there is the drums, kicking out the beats and making the song an aggressive whirlwind through both swing and punk waters. Of course, the bass plays a vital role too, thumping hard and playing the part of the heart of the song. Swing dancing to this could cause you a heart attack, because within a few minutes you'll be so tired you'll want to drop dead. But, hey, there is so much energy here you'll keep going and have the time of your life.

Another surf intro to kick things off, "Swamp Thang" brings forth surf/swing verses combined with a pop-punk chorus. One minute you're swingin' and sweatin' from a surf-swing melody, and then all-of-a-sudden you realize you're now boppin' and jumping along with a fuzzy pop-punk beat that seems to have come out of nowhere. Sure, the combination is a rough one, but somehow they pull it off and make it seem almost natural.

Then, for everyone who wants a gentle, laid-back track, there is the "Downtown Damnation Theme." It starts off very silky, straight out of a 30's jazz club, and soon moves into a swing-pop-punk fusion. But, they still manage to keep the song slow, giving off a very smoky flavor that will attack your eyes first, then your feet. This is about as soft as they get, and although it may not be as smooth or soft as some may like it, they do a good job of making the song steamy and intense even without the assault of punk beats coming at you from every angle.

While we're on the subject of punk though, "A Girl Named Mona, A Guy Named Joe" is a straight-ahead pop-punk ditty that will have you bouncing and singing in glee. Hey, sometimes you just need to kick back and rock out, taking a break from the other styles for a few. I welcome it. It still shakes like some of their swing material on the disc, but has a much dirtier feel for you to just dive right in and go crazy with.

Ending with the same song they opened with, "Outro" closes out the disc without a message this time. They go out swingin' and rockin', two terms that Hipster Daddy-O and the Handgrenades prove are related.

Labeled as a "ska-swing" band, I wasn't sure what to expect. OK, I'll tell you the truth, I expected some cheesy combination of the two being passed off as "stylish." But, what I heard was totally different, and blew me away. I wasn't expecting a swingin' punk rock album that managed to drag from so many influences and, pardon the lame expression, rock my world while also getting my fingers tappin' and body swingin'. I'll give this album an A.