Aks Mamma
Jolly Holidays! (Kicksave Records)
By: Alex Steininger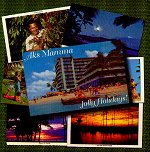 An eight-piece ska outfit from Michigan, Aks Mamma blend sunny traditional beats with a modern day, third wave touch. Blissful and very happy, their music is warm and moving. Once they get your feet moving, they never stop. A guest appearance by Coolie Ranx (Pilfers), makes the disc that much more fun.

The name of the album is JOLLY HOLIDAYS!, and in reference to the title the cover features several pictures you might find in brochures for places like Hawaii and Florida. Topping everything off is a postcard (reading "Jolly Holidays"). All the destinations on the cover are sunny and warm, full of good times and parties. Beautiful scenery surrounds you everywhere you go, and even at night the world around you is so beautiful it makes you forget your worries. Aks Mamma's music is just like these places. Matter of fact, while listening to their music you'll be taken away to a place where everything seems so happy and fun.

Now, ska has a reputation for being fluffy and fun, full of sunshine and cheers. But, Aks Mamma takes it one step further and brings you to the land. Where other bands craft music that reminds you of certain images, Aks Mamma's music is so bright and full, vivid images will swim around in your head. You will actually feel as if you're on the sand, water walking up your legs, as the band plays in front of you. Don't forget the sun beating down on you as you sweat and dance along to the music.

I'll admit, unlike some ska bands, a lot of Aks Mamma's stuff is fluff. But that shouldn't read as a derogatory term when it helps satisfy their goal. They want you to kick back and have fun. And through their sunny, fluffy beats they're able to watch this goal succeed.

With a lot of sunshine, Aks Mamma creates music in their own tropical paradise, and then bring this world to you in the form of a CD (or live show). Just relax, party, and have fun. I'll give this disc a B.