The Hope Blister
...Smile's OK (Mammoth Records)
By: Alex Steininger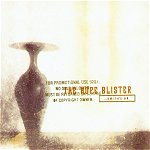 Fronted by Louise Rutkowski (formerly of This Mortal Coil), The Hope Blister is a sonically sparse collaboration between 4AD founder Ivo Watts-Russell, Louise Rutkowski, bassist Laurence O'Keefe, and a string quartet led by Audrey Riley. Also making a few contributions is Ritchie Thomas, who played saxophone and percussion on two tracks.

Sort of a modern-day Celtic music meets A Capella workings, with a touch of Irish folk thrown in for good measures. Yes, The Hope Blister is a hard band to pigeonhole, let alone describe. On their debut offering, they've already destroyed any chances anyone could possibly have of labeling them. Besides labeling the music though, what does it sound like? Well, it's very sparse, semi-A Capella during times, and full of many different influences from all over the world. Louise relies on her voice as an instrument through a majority of the album, while backing instruments are light at best. The sound she creates with her instrument, and the sounds the band backs her up with mold together in a, well, I'll use the term here, new form. But the quiet, faint, and often indescribable sounds are often hard to swallow, therefore leaving you with a thought of "What just happened?" For that reason, I could never get into the album. It was too vague for me. I'll give it a C.