Faith & Disease
Insularia (Ivy Records)
By: Alex Steininger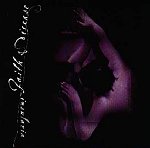 Led by the elegant vocals of Dara Rosenwasser, Faith & Disease is a soft, subversive landscape of sounds that both paves and drives its on roads. Hailing from the land of a thousand guitars -- all amped up and ready to explode (some may have you to believe) -- Faith & Disease call Seattle home.

As I listened to this disc I sat here and was captivated by the beautiful vocal work on the album, but the quiet tone of everything led the music to background status. But, it was in background status that I started to enjoy and appreciate the music. There it was able to softly flow into my ears while my mind was on other work. But, I would get distracted, close my eyes, and let the music fully encompass me. It helped relax me and, when I got back to work, I was more prepared and focused.

Using instruments such as guitars, flutes, keyboards, lap steel and pedal steel, and an organ, they implement a lot of tools to make their beautifully soft and elegantly breezy sound flourish. It may be quiet, but that doesn't mean it can't overcome you with power. I'll give it a B-.