Pigface
Below the Belt (Invisible Records)
By: Alex Steininger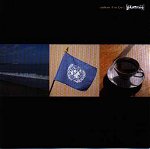 A technological album that combines pop, industrial, rock, electronica, techno, jungle, and various other musical sounds, Pigface is what some might call a sonic 'super group' of the computer-music era. Featuring a revolving live line-up that will impress any fan of industrial, techno, or electronica, Pigface is a name that, once it enters your head, will never leave you.

Using vocals like any other instrument, voices can be heard throughout striking a place in the music right next to that of a drum machine, turntable, or various other electronica sounds. Sculpturing the music and letting it build itself, rather than forcing sounds together, the music comes alive track after track.

And with a little repetition, which works in their favor rather than against them, the album will start to generate floating objects around in your head. Have you ever been outside on a bright, clear day only to see the few clouds in the sky resemble a particular image that has been in your mind for awhile? Well, that is the type of imagery this album will cook up.

But, it does have its drawbacks. With each track averaging over five minutes, the songs seem to wear out their welcome near the end. The result is you'll begin to lose interest until the next track hits, which will grab you all over again, and keep the cycle spinning. But, once you're into the album, this effect does leave. It just takes a bit to really warm up on you and become part of you.

Sonically soft, while abrasively noisy when it needs to be, this album is capable of a lot of things -- as you'll soon learn. I'll give it a B+.