Ron Sunshine
Soul Drug (Golden Bug Entertainment)
By: Alex Steininger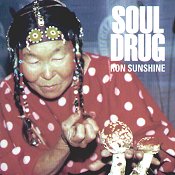 Combining soul, R&B, funk, blues, and jazz, Ron Sunshine and the Smoking Section serve up plenty of grooves on their second CD, SOUL DRUG. Hailing from New York, a vast, musical jungle, front man Ron Sunshine has gathered up plenty of talented musicians to bring his music to life.

Combining a sweet funk underbelly, with soul vocals and a jazz undertone, the opener, "I Remember," quickly gets your fingers snapping and your toes tapping. Putting a funk touch to the bass and guitar, while the horns slyly slide around with some jazz tones, Ron Sunshine makes sure the music pumps new life into the listener. His vocals, which the music often is dependent on, captures an essence of soul that is, although not 100% soul-based, sweet and bold.

Continuing on with his funk-ness, "Mean to Me" kicks with a few more grooves. Leaving the soul at the back, the funk takes full life. Breezy horns help portray the jazz essence, but they are virtually hidden by the over-powering funk approach the song feels. Not to worry though, because this isn't some 90's issued, standard funk that sounds good on the first listen, while coming off cheesy on each additional listen. No, Ron Sunshine does funk with class. Slick and always on the move, the funk groove here will put you in your place and keep your body shaking.

"Brooklyn Bridge" just keeps the good times coming. The percussion flickers in the background with a nice, constant ring to it, while the guitar slides on some slippery riffs. The organ hums like a beautiful summer day and the horns help paint a warm, fun-filled day on top of the summer image. Once again, Ron's vocals are the main attraction, but he always allows the music to get their say in, too.

Allowing someone else to take the lead duties, "Everything is Cool" lets Craig Dreyer step away from the tenor sax and up to the mic. A deeper, smokier voice than Ron's, he helps put a jazz touch to the rhythm and blues backdrop. Still, the music sounds like a Ron Sunshine concept, giving it a nice, linear feel with the other tracks on the disc.

Finishing off with "Love is On the Way," the funk comes alive to close out this disc. Belting out the R&B along side the funk and soul grooves, the song ends the CD with a lot of heat and steam.

A new and vibrant sound, Ron Sunshine seems to be quite the musician. Also playing in a swing band (Ron Sunshine and Full Swing), he sure lets out his musical influences in some great fusions. I'll give this disc a B+.