Less Than Jake
Hello Rockview (Capitol Records)
By: Alex Steininger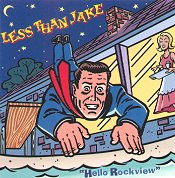 One of the finest bands in the ska-punk genre today, Less Than Jake is known for their energy both live and on disc. Their new album, HELLO ROCKVIEW, is no exception. Their sweat-drenched ska-punk mayhem is present, and in full force. Building on pop influences, as well as a few 80's metal pieces, they're able to serve up a combination that is irresistible to the last drop.

Setting the entire theme for the disc, "Last One Out of Liberty City" sets the pace for over thirty-five minutes worth of music pertaining to living in a small town, and the need to break out. Chunky bass lines help wet your appetite, while fast, action-filled punk guitar streams through the song. Constantly ringing in your head, the drums add muscle to madness. The outcome is slightly pop tinted punk number, complete with horns, that will get your body shaking and your feet moving.

Mixing a serious message into the tone of the disc, "All My Best Friends Are Metalheads" may sound like a joke, but it's far from. Starting off with a sample relating to ageism and racism, the song quickly takes a forceful stance. Of course, once the music comes on everything lightens up, but the overwhelming theme is always present. Dancing and boppin' over the bouncy ska rhythm, the message will slowly leak in while you're having a great time moving to the music.

Keeping you dancing, "History of A Boring Town" mixes pop-punk choruses with energetic ska verses, giving you the chance to move those feet one minute, and then jump up and down in agreement with the music the next. Of course, with enough pop doses thrown in, you'll find yourself easy digesting the music and singing along. Matter of fact, you'll be hard pressed not to sing along. The song is just too infectious -- too inviting -- not to want to get into the music.

One of the hottest tracks on this disc, "Danny Says" just keeps the fluent, energetic ska-punk meets healthy doses of pop coming. Another chorus that will latch on to you and keep you along for the ride, this one seems to have one of the strongest addiction factors attached to it. Don't hold back, because when the song hits you, it hits you hard. During the verses though, they ease up a bit to give you some of that upbeat from the guitar. Another song where they combine all their sides (pop, ska, and punk) into one enjoyable melting pot.

Slapping some classic Less Than Jake humor your way, "Richard Allen George...No, It's Just Cheez" gets you both dancing and laughing. I'm sure there's a message here (maybe?), but with the chorus getting you to sing along with the lines "Don't call me Rich, don't call me George, just call me Cheez, that's who I am," the only thing crossing your face will be a smile. Among the horror stories of growing up in a small town, this comic relief does a good job getting you back on track for the remaining two tracks on the disc.

Containing the energy of PEZCORE (Asian Man Records), with the pop feeling of their Capitol Records debut (LOSING STREAK), HELLO ROCKVIEW is possibly LTJ's best album to date. An essential addition to any ska-punk collection, I'll give this disc an A.