Knowledge
A Gift Before I Go (Asian Man Records)
By: Alex Steininger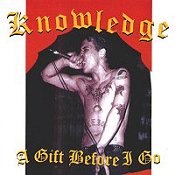 Possessing an incredible gift to touch not only those around him, but his listeners as well, Nick Traina was an amazing person. Not only that, but he was quite skilled when it came to the art form of expression. Using his lyrics as an outlet to fight discrimination in every form, from age to skin color, in Nick's eyes everyone was equal. He would put his trust in you until you betrayed him, and he would always go out of his way to help someone when it was needed.

Formerly of California's successful Link 80, Nick stepped down as their front man to follow a vision -- he wanted to form a ska/punk/hardcore band that played all three types of music, but not in the same song. He wanted each style to stand out separately, and have its own impact on the listener.

Collecting a few friends in August of 1997, Knowledge was born. Playing a few shows, and recording an eleven-song demo to shop around to labels, for the two months Knowledge were together they instantly clicked. But on September 20, 1997 Nick Traina lost his long time battle with manic depression. Overdosing on morphine, a rising star came crashing down to the ground. Passing away far too young, the 19 year old voice of his generation left behind one last piece of art to remember him by. Appropriately titled, A GIFT BEFORE I GO is Nick's final present to the music and the fans he loved.

"Still Standing" begins the short, twenty-three minute disc with some hardcore/punk. Playing fast, melodic punk, Nick's vocals lead the way with some powerful words that help deepen the edge the music carries. Jumping into snippets of hardcore to help emphasize his words, Nick's screams may be rough, but they go down smooth. His voice, and words, are so thought provoking and inspirational, you can't help but emerge yourself in the music.

Always one for unity, Nick not only believed people should get along, but music as well. There were no barriers on sounds; it was all music to him. Covering ska great Desmond Dekker's "Unity," Knowledge backs up these beliefs. Taking a giant leap in a different direction, the upbeat, happy sound of "Unity" gives you a totally different feeling for this band. And that is exactly how Nick wanted the listener to feel. Nick's vocal range is amazing, able to belt out deep, rough yells right next to harmonious flows of triumph. The gentle guitar gives the song a bouncy, dance feel, while the drums and bass help put an extra step into those feet of yours. Putting their vision to the test, they prove themselves with flying colors.

Album standout "Clinton Youth" instantly gets you dancing -- moments later quickly getting you to think. That's the amazing thing about all these songs, they're able to get you dancing while in the back of your mind they're stirring up emotions about society, and all its ills. Another bouncy ska number, listen to it once and dance along. The second time, sit down and feed off the lyrics. Either way, the music will deeply move you.

Once again letting the punk flag fly, "Brotherhood" whips up some pounding beats, while still allowing room for catchy melody to shine through. Don't get me wrong, this is not pop-punk. It's straight-ahead punk rock, but under the surface melodic blood is flowing. With this, they are able to catch you off guard and hook you -- easily getting you to sing-along, bounce, and move to the music. But, as always, if you listen to the lyrics you'll get even more substance to absorb.

"Against The Rest" gives you the hardcore side of this band. From thick, bold guitars to political screams, your head will throb as the music creeps into it and bangs around ferociously. Very edgy, with enough power to kick anyone down, the song showcases yet another side of the band. A force to reckon with, "Against The Rest" has enough power to fuel a group of hungry kids in a circle pit.

"Gnat (I'm All Alone)" finishes out the album with a lo-fi, indie rock number sure to taunt the ska, punk, and hardcore kids. An instant hit, once Nick's painful vocals hit you, you'll forget about musical labels and fall in love. A tortured, lonely soul opens himself up as the feelings and emotions pour out, leaving tears and heartache behind. Is this song a look inside the aching soul, yet heart of gold, that was deep inside Nick? Or, is he putting himself inside someone he knows and trying to understand life from their point of view? With so much emotion in his voice, which is able to make you feel every word, you get the feeling it is option number one. A beautiful song, it serves not only as the close to this album, but also as a close to the short life Nick Traina lived. He will be missed.

For a band that was only together for two months, Knowledge plays the part of a punk/hardcore/ska outfit that has been playing the underground for at least a year. The songs are sketches with a developmental feel, but they still blossom with the emotions and drive the band -- especially Nick -- puts on them. I'll give this disc an A.