Blue Meanies
LIVELIVELIVELIVE (Asian Man Records)
By: Alex Steininger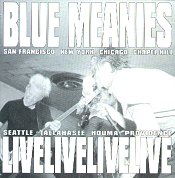 Chicago's hyperactive ska/punk/funk/jazz/rock/whatever fusion band, The Blue Meanies are always one to put on an amazing show. Nothing short of loud, they will split your ears with their frenetic, un-relentless attack on their instruments. And lead singer Billy Spunke's vocals help put even more madness into the mix, throwing every word out with a crazy flavor to it. On their first live album, they help translate their energetic live shows onto disc.

Opening up with a track from their latest disc (FULL THROTTLE -- Thick Records), "Send Help" instantly gets the blood rushing to your head. Just as hyper and crazy as the band, the music aims straight for you and then proceeds to drive right over you. A bit of a ska feel mixed in with some funk and jazz, with a huge punk foundation, the song storms ahead at full speed. "Send Help" may be the appropriate opener for this disc because, with twenty tracks to go, you'll need the help by the time the disc nears an end.

A classic track from their infamous KISS YOUR ASS GOODBYE album, "Polka In The Eye" gives you a good dose of their take on ska. Dashes of punk, and their usual funk/jazz/rock flavor, help fill out their ska heavy number. The guitar burns like fire, keeping the upbeat steady and hot, perfect to dance too. The drums and bass go at the song non-stop, composing one of the best rhythm sections out there. The horns help add a bit of variety in the song, contrasting the harsher sound in favor of lighter, jazzier touch. Then there is Billy's crazed stage presence, which comes through nicely in his vocals. Wild, and always zany, his vocals spit out the words with such fury you can't help but get revved up.

Offering up some more political-oriented material, "The Great Peacemaker" takes a stab at gun control, the right to bear arms, and other handgun issues. A quick, minute and a half squirt of punk rock, hardcore, and a touch of metal, you may not be able to understand a word Billy's saying, but you still understand his views on hand guns. One of their more political numbers, both the lyrics and the music are pounding, furious attacks that will leave you astonished and stunned.

Following "The Great Peacemaker" is another classic cut from KISS YOUR ASS GOODYBE, "The Shitfuck Man." Starting off with a wall of noise, it soon busts into a vigorous ska feel. The guitar screams through the song, whipping up a tremendously fast upbeat. Dancing along, you'll need to take a breather -- or risk the chance of a heart attack. That's how fast it is! Don't try to prove me wrong, you'll only end up hurting yourself. But, then it takes on another life and slows down a bit. Still serving up enough ska to dance with, this time around you'll actually be able to keep up with the music, without hurting yourself. The use of a horn (which is a common tool used in their live show) also distorts Billy's vocals. After that, they quickly end the song with more fast, frenetic ska to burn some rubber (on your shoes) with.

Also including such other Blue Meanies essentials like "Acceleration 5000," "The Noise of Democracy," "The Infidelity Song," "The Forth of July," "Pave the Word," and "F.O.R.D.," they make sure every Blue Meanies fan is satisfied with this set list. And why wouldn't you be? There are twenty-one songs, with enough live staples to have this album even be considered a 'best of live' album.

If you're into the Blue Meanies, you already know how crazy they can be. Embracing music as an art form, and never type casting themselves, they mix everything up in a very different way. Then they mix it up some more, and add another helping of craziness to it, before serving it up to the listener for their listening pleasure. And when they play it live, they add even more life to it, as is evident on this live disc. With seventy-four minutes of music, and each number consistently pumping out the energy, this is one live disc you won't be quick to shelve. I'll give it an A.