HEAR YOU ME!
A Tribute To Mykel and Carli (Vast Records)
By: Alex Steininger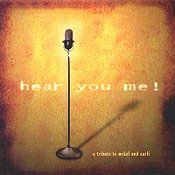 Two sisters -- two human beings that touched several lives -- Mykel and Carli made it possible for fans to get close to their favorite bands, while also promoting the bands on a grass roots level (they ran fan clubs for several bands out of their home in Portland, Oregon). But on July 9, 1997, a fatal car accident would take the lives of the two, as well as their sister, Trysta, on their way home from a Weezer concert in Denver, Colorado. Getting together, several of the bands that they ran fan clubs for decided to help out their friends by donating tracks to this compilation CD. All proceeds will go to the Allan family via the Weezer Memorial Fund.

Seventeen pop bands -- ranging from soft pop to power-pop -- all got together to make this one of the hottest pop compilations on the market. Some of the well-known artists on this album include the multi-platinum Weezer, that dog, Kara's Flowers, and Chopper One. New tracks from upstart bands like Neighborly (featuring Tom Ackerman of Geffen Record's Skiploader), Supersport 2000, and Quimby also appear here.

The first release for Los Angeles' Neighborly, "Spark & Flash" is a power-pop/emo number that produces emotional lyrics on top of a powerful bass. A searing guitar and hammering drums help round out the three-piece's track. Lines like "And in the dark of my heart, I long for the spark and flash of a car crash" and "Sometimes I beg for reminders, of things I know I'll never forget," pop out at you and attack your heart. Painfully strong, you almost feel as if these are your emotions.

Chopper One's "I Like You" keeps the pop coming, serving up a hook-filled trip that will ring in your head and get you singing along in no time. Infectious to the core, you'll hear this one and it will instantly become on of your favorites. A power-pop track all the way through, its lighter feel helps give it an almost universal appeal. Indie rockers and popsters a like will flock to this one.

Capturing the true essence of the rock 'n roll spirit, while fusing it with a healthy helping of pop, Shufflepuck get you bouncing and singing along with "Where The Hell is She." Whipping through some aggressive rock 'n roll in the verses, suddenly they pull the rug out from under you when they slip into some power-pop when the chorus hits. Although, the verses may not get you singing along, the chorus surely will. Intense and powerful, you won't even need a full listen to make this one of your favorite tracks on this disc.

Finishing off the disc is none other than the amazing pop quartet Weezer with "Mykel & Carli." As with most (if not all) of Weezer's songs, this one works around infectious verses and choruses. They keep you singing along for every second of the song. Sugar-power-pop, the sweet melodies overtake your body, while the strength of the guitar screams in your head. The bass and drums also play a vital role, giving the song the kick it needs to charge at full force. Breaking the song down to let out even more emotions, before ripping right back into some more power-pop, Weezer does nothing short of mesmerizing you on the final track of this CD. I can't think of a more appropriate tribute for anyone -- a strongly crafted pop song that both allows the listener to have fun or, if they want, to deeply touch them and make them feel very strong emotions.

Being the big pop fan I am, I was very pleased to a hear a compilation that unites pop bands for a common cause, while showcasing their various styles of pop. A great idea (although, the circumstances could have been different...), I really enjoyed this disc. Not only is purchasing this disc a charitable event, but it will also expose you to some great bands. I'll give it an A.

All proceeds from the purchase of this CD will go to the Weezer Memorial Fund, a scholarship fund that will benefit the nephews of Mykel, Carli, and Trysta Allan. If you would like to contribute, you may send monetary donations to the following address:

Weezer Memorial Fund
10345 West Olympic Boulevard
Los Angeles, California 90064

Please make checks payable to: Weezer Memorial Fund.