VARIOUS ARTISTS: ECW Extreme Music
Wrestling Compilation (Concrete/Slab Records)
By: Sonya Brown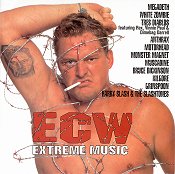 When I received a copy of the ECW Extreme Music compilation to review, I thought it may already be down for the count. I mean, I'm not much into hardcore wrestling (strike one); and my music tastes as of late have been more towards the darkwave/goth, industrial and electronic sides (strike two)...... but before this CD hits the mat and is carried from the ring, I decided to give it a good listen.

If you can get past the obnoxious cover, there are a few redeeming tunes inside such as Anthrax's "Phantom Lord"; and Megadeth's instrumental "Trust" which is constantly building and falling in levels of intensity.

The ECW intro theme is performed by Harry Slash & The Slashtones, it just seemed a bit juvenile; next up is White Zombie with "El Phantasmo and the Chicken Run Blast-O-Rama". I already have a mix of that track on Astro- Creep-2000, but it's still one of the better tracks on this CD.

The Motorhead remake of Metallica's "Enter Sandman" lacked the intensity I felt for the original version, and the vocals were a bit too gravely for my tastes; and Muscadine's version of AC/DC's "Big Balls" sounded a bit tired.

While dripping with enough metal mayhem to satisfy most adolescent males, from a female point of view I would have to say this CD failed to hold my interests. Most of the cover tunes on this CD were hits to begin with; so If nothing else, I would recommend this CD to the metal fan who would like to hear other musicians variations of some classic metal music; and with 11 of the 12 tracks not commercially available elsewhere, this is also something for the metal fan to consider.

The apparent goal of this CD was to incorporate metal and hardcore wrestling and it did just that.... but for me, the CD ended, the show was over.... and I changed the channel (hmmm.... strike three?).