The Spinanes
Arches and Aisles (Sub Pop Records)
By: Alex Steininger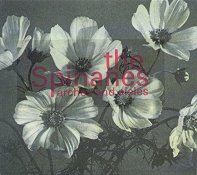 Relocating from Portland, Oregon to Chicago, Illinois, Rebecca Gates began work on re-inventing the Spinanes. With the loss of co-member Scott Plouf (drums), The Spinanes is virtually Rebecca Gates, with the help of friends in the studio. The maturest Spinanes disc to date, Rebecca manages to create the exact sound she wanted by writing and producing the entire album.

Still crafting favorable pop-rock, "Kid In Candy" shows the absence of another solid band member hasn't dampened the flame that fuels The Spinanes. A catchy guitar riff bounces around the whole song, so inviting it gets you to center your ears right on it. Sliding into the chorus, another hook jumps right out at you. But the real focus of the music is Rebecca's slyly sweet vocals. As she softly lays out her powerful words, her voice seems to draw you in -- hypnotizing you even.

Still centered around pop hooks, "Leisure Run" tackles a darker musical approach. The guitar is a bit heavier, layering the darker feeling on top of the music, whether accidentally or on purpose. Rebecca's voice is also a bit more strained, working with the guitar to keep everything a bit more raw. It takes a few listens to grow on you, but once it does, the chorus will come at your with relentless force and keep you listening.

Clocking in at only a minute and forty-nine seconds, "Slide Your Ass" is the shortest track on the disc. Very soft, the main focus of the music is Rebecca and her acoustic guitar. A bit more instrumentation keeps it away from the simplistic guitar and voice set-up, but the same feelings are approached. As her voice nearly whispers out the words, the sheer faintness of everything will impact you. But, then the words will start to become clear and they'll become the new impacting factor of the music. Emotionally powerful, Rebecca has a good grasp on what she wants you to feel when you hear her lyrics. Honing her lyrical style through their previous two releases, she seems very confident in how she approaches them. There isn't a minute she questions herself, and as such, you won't either.

Ending with "Heisman Stance," Rebecca closes out the album with simple electric guitar riffs to help back up her voice. Very light and slow moving, the song has a lot of feeling, but just drags on (clocking in at over four minutes). A nice closer for the album when you're listening from start to finish, the track has trouble standing on its own. A good summary of emotions, though, for the whole album.

It's been a while since The Spinanes released anything, and the wait seems to have contributed to a very personal, yet universal, album that is able to reflect and create a lot of emotions for the listener. I'll give it an A.