Richmond Fontaine
Miles From (Cavity Search Records)
By: Alex Steininger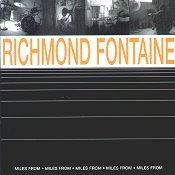 From the great Pacific Northwest -- Portland, Oregon to be exact -- comes Richmond Fontaine. Dark, bleak portrayals of characters and the lives they lead, the lyrics often reflect a deeply sad and hidden side of a person's thoughts. Backing up the lyrics, and adding an even darker tone to the setting, the music's cross of country moods and rock 'n roll blood is all Richmond Fontaine needs to have you feeling empathy for the characters they paint.

From the opening vocals of "Trembling Leaves" and the accompanying guitar, you know the sun has left the land and the moon is the only light that will guide you through your journey. Willy Vlautin's vocals are the perfect companion to his lyrics. Full of first hand depression, empathy for his own characters, and recalling upon heartfelt pains, with each word he sings he has you closer and closer to tears. But, even his voice can't retain the emotions that the music does. With a Western sting to it, the guitar's dark notes smoothly play over the light percussion. Keeping in line with the slow, but heavy theme, the bass creeps through the song with a thick cover.

Musically shaking off a bit of the depression, and playing with optimism and hope, "Evergreen Power Line" shows their rock 'n roll side without ever losing sight of the country sting that makes their music so distinct. Starting off with some power chords, bouncy drums, and a bass line you can shake your body too, the song wastes no time in getting you to move. Slowing down and allowing their countryside to show its face, the chorus changes the pace somewhat. But even then, Stuart Gaston (drums) keeps the rock 'n roll alive with some swift beats to his kit, full of cymbals and snare licks.

"Collapse" brings more heavy-hearted, painful imagery to mind. Once again soaking the music in tragedy out West, the country soul of the song stinks of whiskey, blood, and tears. Willy's voice never lets up, easily capturing your deepest emotions and feeding off them. As you sit and listen, he has you so wrapped up you can't help but wonder if he's speaking straight from personal experiences, or if his imagination is so vivid that he can stir up this much emotion through things he sees with his own eyes. Thinking about it, the music will quickly take your mind off wondering where the music comes from, and re-focus it back on the sounds coming out of you speakers.

Smart at what they do, the band knows they can't keep you sulking for the entire disc, so "Calm" joins a bouncy country feel with regular Richmond Fontaine lyrics. Though the lyrics still paint vivid images throughout, the music will keep you from feeling too much pain. Throwing in a wee bit of pop for good measure, the chorus bites hard while drawing you deeper into the music. Like a ton of bricks, the sudden shift from verse to chorus is enough to stun, and will leave you speechless.

Quickly tapping your nerves, "Under Florescent Lights" begins with the line "his 16 year old brother waits for him to come home to their apartment, it's been days." The sudden theme of isolation and loneliness turns your head, as you recall upon a time when you too felt empty in the same way. Keeping you tied up throughout the three-minute song with the same rope sentences, you feel as if you know this kid and wish you could help him out. But the bleak state of the song offers little optimism, so you sit and listen in silence.

Gather around a drink while you listen to this, because you'll need the comfort. Easily slipping from one sad story to the next, Richmond Fontaine have no problems telling the sad tales of life with heart and style. Obvious why they've become a Northwest favorite, this disc should help them obtain a larger audience. I'll give it an A-.