The Osborne Brothers
Hyden (Pinecastle Records)
By: Alex Steininger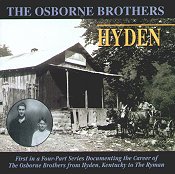 Gaining legendary status amongst the bluegrass community, The Osborne Brothers are the creators of the genre's most popular song, "Rocky Top." Crossing over into the Billboard Pop Singles Top Ten chart for a bit, no bluegrass history would be complete without Bobby and Sonny Osborne.

The first in a four-part series to chronicle the forty year span of these two musicians working together, Pinecastle Records delivers the first installment -- a tribute to Hyden, Kentucky, where Sonny and Bobby's love for bluegrass all began.

Opening up with a song that has history, "Ruby" includes Robert Osborne (their dad) on clawhammer banjo. Sweet as a peach in the morning, the crisp breeze flows through you as the banjo tingles throughout every bone in your body. Country-fresh vocals line the song, giving it an essence all its own, while the rest of the band plays the role of supporter with ease. Not a hair out of place, even early on The Osborne Brothers seemed to be right on the mark.

"Leaning on the Everlasting Arms" brings forth more boot stompin', hip-shakin', country-fried bluegrass to your ears. Always fresh and sweet, reminding you of a cool breeze sitting on the porch talking during sun up, the song never losses focus. The hot, five string banjo tickles you feverishly, while the guitar and vocals help put a smile on your face. Then there is the mandolin, which drops by to become the party highlight now and then. Separately they're enjoyable, but together they're unstoppable.

Standing out as one of the premier tracks on this disc, "Grandpaw's Radio" slows the pace down, but never lets the sweat-drenched tunes calm down. Exemplifying the words 'team work,' Bobby and Sonny's vocals work together in perfect unison. Never missing a step, both their voices pour through the words with delicate emotions and interesting stories. Quickly taking you back to memories of yourself and your grandpa, the nostalgic essence and quality work in their favor.

Ending with another number that will bring up emotions in your mind, "Old Friend of Mine" is a soft, thought-provoking platform to reminisce and remember all the great people in your life who have touched you and showed you just what living means. As you sit there and absorb the sounds, flavors, and emotions, you will be in a state of pleasant memories that will never die. A great power to possess, they harness it for your pleasures.

Putting on this record makes you feel like you're going back in time. As you sit there and listen, everything in life that is sweet will dance around in your head, and you will have a better understanding of what life means to you. A definite must for any bluegrass collection; I'll give this album an A.