Grindstone
Grindstone (self-released)
By: Alex Steininger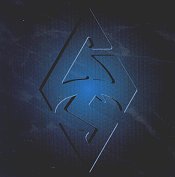 Portland, Oregon heavy hitters Grindstone are known for their groove-based, heavy rock. Self-releasing, self-producing, and self-promoting themselves, they are what you want to strive for when starting a band: they know how to get the Grindstone name out and about town, without over-doing it to the point of exhaustion. Although the Tool and Alice and Chains comparisons will run wild for first time listeners, upon a closer inspection of the disc they'll start to break away from familiar bands and mold into their own.

Not one to sit around and dittle dattle before ripping right into some concrete shattering rock, "Come Alive" doesn't waste any time. Starting off with a nice percussion groove, they've already got your body shaking, so when the full band begins to play together, you're prepared. Lamar Stilwell's (vocals/guitar) vocals add depth to the already thick, impenetrable music, but it is the percussion section that keeps your interest. Besides creating a groove for the rest of the band to follow, Travis Ludahl (drums) and his kit lay on some searing cymbals to the music, spicing everything up with some nice flavor. Of course, the guitars and bass should never be overlooked when the topic is heavy rock. And, while you listen to the music, rest assured you won't be overlooking them. The bass puts the meat on the bones, while the guitars slice and dice up everything with thick power chords.

"Cleansing" feels like a big smack to the head. You know, the feeling where everything seems to be moving around you so fast, yet you're moving so slowly. The music keeps pounding with a heavy force, while the pace of the song is mid to slow tempo. You keep expecting them to bust into some hyper-fast guitar riffs, but it never happens. Instead, you just sit back and listen as the music keeps playing with your head. Not a nice feeling at first, the uneasy-ness soon settles in with additional listens. But that creepy feeling always lurks behind the music and, senselessly accepting it, you'll like it.

Slightly changing pace for a bit, "Mir" shakes things up. The guitars begin with a lighter tingle to them, while the rest of the band is still playing with heavy things on their minds. A weird mixture, to say the least, it does a solid job of drawing both your eyes and ears to the speakers to see what is going on. Then they'll whip into their standard rock format, before sliding back into the tingling guitar sting. Trading off between these two styles, they keep you from allowing your anticipation to climax -- that way, they're assured your mind will be on them.

Ending with "Appropriate," they close out the CD with another rocker. How else would they go out? Keeping the bass as accented as ever and the constant pounding of the drums always active, the rhythm section knows a good groove when they come across one. And, with the guitars as juicy as at the beginning, Grindstone manages to keep you rocking out until the final drop of music pours out of your CD player.

The musicianship was quite splendid. The band played very tightly together, and seemed to understand each other's music visions quite nice. But, the one thing that didn't rub off on me well was the fact that there were only ten tracks, and the music flows for over fifty minutes. A few five-minute songs can be justified, but with an average song of five minutes, a lot of things need to happen. That's not to say a lot of things didn't happen, but eventually five-minute songs wear thin and your attention starts to drift elsewhere. Still heavyweight contenders against any other band of their caliber, they seem to know the direction they want to go -- and are appropriately taking the right steps to achieve them. I'll give this disc a B.