Babe the Blue Ox
The Way We Were (RCA Records)
By: Alex Steininger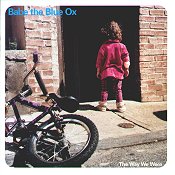 Traveling around a world of pop, New York's Babe The Blue Ox never settles on one pop style, yet always keeps everything sounding similar in structure. Kicking out laid-back pop ditties, as well guitar-driven power-pop numbers, they never milk one sound.

With a strong bass groove, "My Baby 'N' Me" begins the album with style. The vocals seem a bit awkward with the overall groove, but after a few listens the groove will over-power you and you won't even notice. At first, the lyrics seem too obvious and forced but, again, they grow on you.

"Lotto Train" blends hard rock mentality with pop urges, and the outcome is a washed, unfocused song. The chorus is the only brightness in all the darkness, but the verses help make sure you'll never notice. There seems to be too much going on, overwhelming the song and never giving it a chance.

Entering new influences on every track, "F Train" works funk into pop. A unique combination, the way they jump from pop-funk verses to pure pop choruses is quite nice. Although, the verses never really rubbed off on me, the chorus contains well-structured, space-pop melodies that at least give the song a favorable presence.

The somber sounds of "The Monday After" starts to really show the potential of the band. Led by female vocals, the song carries a cloud of emotions around with it. So strong you'll almost cry, while leaving enough room for hope to fit into. The faint guitar trickles through the song, and sparse percussion creeps in once or twice, giving the song a very mellow, reminiscent feel. Truly captivating, the song opens up your ears and holds you in anticipation.

Waiting for a song that packs as big (or bigger) of a punch as "The Monday After" did, you'll finally get it on "Basketball," their first single. Trading off vocals, they help convey two different feelings towards the same subject. The female point of view is a bit softer, both romanticizing and feeling sad over the subject matter, while the male view is a lot more macho. Combining sugar pop choruses with trip-pop verses, the two different styles help emphasize the two different point of views. Finally, the band starts to really shine.

Following "Basketball" is the band's strongest cut on this album, "I'm Not Listening." Power-pop with a strong bite, as well as solid lyrics that offer helpful advice, after hearing this song you'll want to hear more (and more). One of the shortest tracks on this disc, the nearly two minute and thirty second track just doesn't seem long enough. For this grand of a track, you want it to keep going. But, it seems like a flash in front of your eyes. One minute it's there, and the next it's not. But don't worry, do like I do and hit the repeat button. The opening lines ("Bobby's beating on his little kid brother. Dad says punch him son, slapping's just for wimps and girls. And if I get that boy alone I'll tell him one thing, you gotta stop listening") instantly grab you and create a feeling of sorrow and hope. As the song progresses, the message gets louder and clearer. Here is one track that you won't walk away from empty handed.

Diversity does a great deal of things to this album. One minute it helps them create blissful pop music that defies categories, and the next minute it bogs down a good song and turns it into a mushy piece that has too much weight bearing down on it. Able to craft brilliant numbers, there are a lot of songs on here that just don't seem to live up to the band's potential. Of course, that just might be because I'd like to hear more songs like "Basketball" and "I'm Not Listening," who knows? I'll give this disc a B-.