Adamski
Adamski's Thing (ZTT/Universal Records)
By: Alex Steininger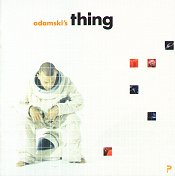 At the age of eleven, Adamski's first band, Stupid Babies, recorded a single for Fast Product Records and hit number three on the independent charts. What's more intriguing is the fact that the drummer for the band was Adamski's five-year-old brother. It's easy to say, music came at a very early age for Adamski.

As time progressed, he began to get more and more into the house/rave scene. Releasing three albums between 1989 and 1992, he eventually took some time off to straighten his life and clean himself up from the drugs and alcohol. Now, back after six years, ADAMSKI'S THING is a his forth album.

One thing that is nice about Adamski's style of house music is the importance lyrics and vocals are placed in the music. Instead of just focusing on the beats, which get their ample time, he likes to add additional flavor to the music to ensure every corner is covered. His appreciation of the arts shines through, and helps make the music that much more enjoyable.

Full of tripping beats, heavy vocal surroundings, and an acid taste, the music stings, swirls, and bites back with fury. Not your average house music, the rock approach he takes to composing gives the beats an even meatier flavor. Even adding some quirky instrumentation, Adamski makes sure everything (and everybody) is always standing on their tippy-toes when the music is spinning.

Focused, and certainly fun, Adamski knows what it takes to get your musical voice across to the listener. Not afraid to try something different, or to stray from his own path, there isn't a minute that goes by when you're not questioning "What's he doing?" I'll give this disc a B+.