Sturgeon General
Stout (Radical Records)
By: Alex Steininger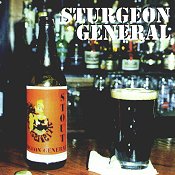 Hailing from Utah, Sturgeon General is a six-piece ska outfit that blends the hyper-ness of a sugar-charged pop band, the dance-ability of traditional ska, and a fierce nature that comes from their punk side. Releasing their debut CD, STOUT, on New Jersey's Radical Records, they have some very clever moments that will not go without notice.

Although the disc has its pitfalls, which are generally the fact that the band seems young and loose on this disc, they have some shining moments of power that get you singing along, dancing, and having a great time from start to finish.

Such is the case with "Edge of the Knife," which packs a tremendous horn section, pop-punk chorus, and an infectious upbeat that will virtually floor you if you're not careful. A stompin' sing-a-long with a nice bounce to it, you'll instantly start dancing. Then, when the vocals enter in you'll become possessed, feeling the need to handle all the backing vocals. Let's not forget the rhythm section on this song, which throws out some powerful beats that help give the song the 'oomph' it needs to whip you into a frenzy.

Another cut that will impact you, making you move to every note that spills out of the speakers, is "3AM." A bit more relaxed, this song still packs the sharp guitar upbeat that will play into many hours of dancing, but the pace of the song is toned down a bit. Not as much of a vigorous workout as some of their more fiery numbers, this song still has plenty of moments you'll find yourself singing along with. The only thing that bugs me about this song is the fact that half way through the band starts to fade out, meshing a bunch of unbearable noises together, before jumping back into the song. After that, I lost all interest in the song. But previous to that, it was smokin'!

A very promising band, the only thing that seemed to hurt them on this disc was their inability to focus a hundred percent of the time. But when they did focus, boy, you better look out, because they'll run right over you without even taking a second glance. A decent album with a few holes and gaps that will be filled with time, I'll give this a B.