Soul Coughing
EL OSO (Slash/Warner Bros. Records)
By: Bernadette Giacomazzo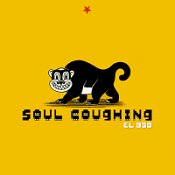 The boys are back. After two years, M. Doughty and the Soul Coughing gang - drummer Yuval Gabay, bassist Sebastian Steinberg, and keyboardist M'arc De Gli Antoni- bring the New York noise with their third album, El Oso.

Oso is shaping up to be the band's most "commercial" album. Chances are, you're listening to the boo-bop single "Circles" as you read this, and MTV News recently featured a clip with Doughty and Gabay. Still, don't expect to see this band sell out any time soon. Even if you've played the previous two albums(1994's debut Ruby Vroom and the 1996 masterpiece Irresistible Bliss, which features "Super Bon Bon" and "Soft Serve")ad nauseum, you won't find anything formulaic about Oso - ever true to form, Soul Coughing stay one step ahead of themselves and take this album on a new path. Throw in some phat rhymes and crunch guitar, and you've got yourself the album.

Well, almost.

The music has always been "art-rock poetry with a dance beat," but the band goes full throttle into drum 'n bass with "I Miss The Girl," a campy-sweet tune featuring Doughty's nerd-sexy monotone rapping wistful-sinfully about his faraway love. The aforementioned "Circles" goes with boo-bop beats and the endless chanting of "I don't/need to/Walk around in circles/walk around in circles" to create a nouveau-shaman prayer, and "So Far I Have Not Found The Science" deals with the endless quest for the Holy Grail . . . Soul Coughing style.

But have we defined the "Soul Coughing Style"? Of course not. And yet we have. The rules are simple: there are no rules. The shame here, though, is that FM radio doesn't agree just yet. But there's hope. All you have to do is open the insert to El Oso and you'll see the prophetic picture of the boys dressed as trailblazers, looking for the one true musical path.

Everyone knows they'll never find it, but you can be sure they'll have a good time trying. Along the way, they'll bring us the beats and swing it with a style that oozes original flavas from every pore.