Firewater
The Ponzi Scheme (Universal Records)
By: Alex Steininger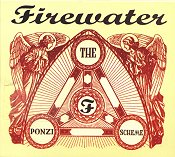 A hard band to pigeonhole, Firewater is able to draw in influences from all over the globe without skipping a beat. Jumping from one influence to the next so fluent, you don't even know the change has occurred. The best way to sum up their sound is eclectic rock.

Hearing the saxophone start off the album, I wasn't sure what to expect. Then a dancing piano came in, followed by the stereotypical spy-movie sound. From here I wasn't sure what I was hearing, but I knew I liked it.

From there, they slide into some of their 'eclectic rock.' Merging styles from all over the place (and world, for that matter), they bring it together in one cohesive sculpture on "Green Light (In Stereo)". The guitar still stings with the spy-ish sounds, while the rhythm section keeps a pop-rock foundation. Together though, they sound nothing of the respective genres they pull influences from. No, instead they sound as themselves.

"Caroline" brings more pop-rock to the listener's ear, complete with violin and piano. But they still manage to shake things up a bit and keep the music from being strictly pop-rock. There is a lot of pop-rock influences here, but to label them that would be both misleading and under-sighting their other influences.

Recalling the sounds of Arabic music, a bar mitzvah, and of a carnival, "El Borracho (Ponzi's Relapse)" is an instrumental number that shakes things up tremendously. You won't find any pop-rock influences here, yet, somehow, they still manage to put their stamp on it and keep you believing it is the same band.

"So Long, Superman" brings in some synth-rock splashes, giving you a flash back to the 80's. Devo's influence is definitely felt, although not completely replicated. The organ rips through the song, leading you down the dark path in which they want you to keep following them down. Of course, you do! Foolish you. But it's too irresistible to turn down.

Ending with "Drunkard's Lament," one moment you can hear the soul influences, and then the next minute you're back at the bar mitzvah carnival. Like I said, eclectic rock is about all you can say about their sound, without going on and on, describing every little detail.

At first I wasn't sure what to expect. Their music had strong pop-rock ties (which isn't that uncommon at all), but the way they added other influences is. Jazz, soul, and even punk music are common genres that help influence rock bands. But they took their influences to the next level, going as far as to incorporate a lot of them in their sound. Now that I've listened to them a bit, though, I have a better understanding where they're coming from. I'll give this album a B.