Depeche Mode
The Singles -- 86>98 (Mute/Reprise Records)
By: Alex Steininger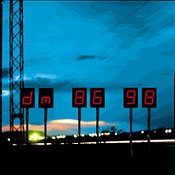 Taking a dark, often haunting approach to rock, Depeche Mode's format has won fans over worldwide. Following up their first singles collect, 81-85, this latest offering covers every single they've released in the twelve years it spans. Every single truly means every single, including "Little 15," which was released in France only. A 2-CD set, with twenty-one songs total, Depeche Mode fans now have something to get excited about. Too bad that is the only audience that will find interest in this compilation of previously released material.

Centered around their current fan base, which is huge enough in itself, these two discs do little to draw in new fans. Maybe it's just me, but I've never been able to find out why everyone loves this group so much. Sure, their songs are original and have a lot of emotions to them, but the music just doesn't seem that appealing. Then when I see people go crazy over these guys, I just get more confused.

But even I was able to find enjoyment on this album. There I admitted it! Two songs that especially caught my ears were "Strangelove" and "Enjoy The Silence." Both powerful numbers, they had the brilliance to captivate and the melody to mesmerize. I found myself singing along and really getting into the songs. As I sat and listened to the first few tracks on disc one, I still wondered why this phenomenon has swept across the world, then when "Strangelove" came on, I too was swept away. But then a few more numbers passed on while my mind was once again wondering what the hype was all about. But they did it to me again, stunning me with "Enjoy The Silence."

By this point I was deeply confused. Do I really enjoy the songs, and the album, or are these two songs just so brilliant they knock me on my feet each time I hear them? As I listened to disc two, allowing it to fade into the background as I sat there dumbfounded at what was storming through my ears, I came to the conclusion that these guys are very talented and deserve every bit of respect and accomplishments they've reached, but they just don't do it for me.

They have a few stand out tracks, but as a whole this disc just ran from one song to another, without really grabbing at me for attention. A solid compilation of their singles, any fan would be a fool to pass on this, even if to only complete your collection. But if you're not aware of the band, or familiar with what they offer, you'd be better off picking up a normal full-length and getting your feet wet that way. I'll give this a B.