BR5-49
Big Backyard Beat Show (Arista Records)
By: Alex Steininger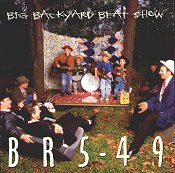 Hailing from Nashville, Tennessee, BR5-49 plays a mixture of bluegrass, Nashville pop, and a dash of rock-a-billy thrown in for diversity's sake.

Leading off with "There Goes My Love," they jump right into the Nashville pop/twang (commercially known as 'country') that is heavy throughout the album. Based around this, while also throwing in different aspects of a few other genres, they are able to stay away from the boring droll that is shoved down the public's throat as 'country' in this day and age.

Their first single, "Out of Habit," happens be produced by mega-rock producer Steve Albini. A first for him, his magic fingers at the board make this song the highlight. A rock-a-billy sense thrown in with the down home goodness of bluegrass, the spirit of this song will blind you alone. The upright bass is able to get the hips shaking, with help from the keys, of course, while the twang-ness of the guitar keeps those feet in motion. Add in some tappin' drums and smooth vocals, and you'll be moving along to this number with ease.

The rest of the disc rides through over-saturated Nashville pop and lively bluegrass notes. One minute you'll find yourself crying at the all-too-common love ballad, and then the next minute you'll be square dancing along with your girl (or guy). Inconsistent at times, the overall bounce to the disc is quite good. Out of the forty minutes this disc is in motion, you'll be enjoying it for more than half of it.

I'll give this disc a B-. These guys are good, clean fun, but the Nashville pop needs to spend less time in their diet.