The New Morty Show
Mortyfied! (Slimstyle Recordings)
By: Alex Steininger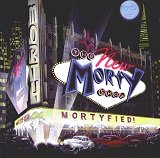 A ten-piece swing/lounge act, including both female and male lead vocals, The New Morty Show is quite a bunch of interesting cats. Hailing from San Francisco, this band has the chops and confidence to be adventurous, and on their debut album no doubt! Quite amazing, when your ears first take a taste of the music your body will instantly be warmed up and ready to go.

"Baby What's Up?" gets the martini's flowing from the beginning. The female vocals add a beautiful, sexy sting to the music, while the male vocals help add the dominance and slickness that was common with the era in which this music first saw the mainstream. Working together, they're able to lead the band through some good swing/lounge. Speaking of the band, they help bring each word to life through the use of combination horns, flowing keyboards, plenty of guitar, and a happening rhythm section. Together they form a solid band that has the drive and charisma to charm anyone. But does this band live in the past? Heck no! Acknowledging their love for lounge and swing through their musical inventions, they also prove they're big fans of modern day music by including covers of Billy Idol and Metallica. That's right, Billy Idol and Metallica! Man, these cats are twisted and they love the fact that people know that about them. Billy Idol's "White Wedding (Rebel Yell) Medley" is observed in a new light when the New Morty Show gets their stab at it. The female, male, female/male vocal combination works quite well, driving each pop hook and lyrical jab to the surface. Clearly modern, these guys are still able to take the time machine back into time and re-date this song. With the cymbals tingling up your spine, and the horns running like wild children throughout your head, and the beautiful vocals sweet talking you into fall head over feet for the song, you can't help but question which version brings you more enjoyment. In the end you realize Billy Idol's, but of course it's probably just because he was the original creator of the song. These cats come close though...or is it a tie? "15 Months In Jail" has to be one of the best originals on this disc. Starting out with a sleek, private-eye feel, the song gets you thinking about 40's private eye movies, Al Capone, and prohibition. As it progresses, the lyrics, tone, and especially the horn lines throughout the song help keep this feel. Relying only on female vocals, which help portray the hope and love even though her boyfriend has been sentenced to 15 months in the pen for a crime he didn't even commit, you get the impression this female is tough, even though the voice and music of the song is soft and delicate. Muscled without even turning up the volume, this song really catches the attention of your ears. "Buddah's Bounce" gives the band a chance to showcase their chops without the vocals. Nicely done, with some good piano work stealing the show during certain spots, they prove to the audience that with or without vocals they are good. But they are still a bit more enjoyable with the vocals. Covering Metallica, as I mentioned earlier, "Enter Sandman" has to be the most unexpected song on this disc. Who would have thought a swing band would have enough balls, or risk-taking traits, to attempt a cover of "Enter Sandman?" Certainty not me. Not as good as their originals, they still turn some heads. The vocals are a bit annoying and the guitar leaves into too much metal for any swing number. The song has a strong metal pulse, for obvious reasons, and just doesn't work in the swing atmosphere. The piano and horns are able to pull it off, but without the rest of the band following their lead, the song stands as only a statement at what this band is capable of, and not a direct example of it. Ending with "Caldonia," boogie-woogie, blues, and swing come together to give you one of the most infectious, danceable numbers on this disc. Go crazy, get sweaty, and have some fun, because even though this is the final track they keep the song so vigorous you can't say no.

Besides music there is also some multimedia stuff that is quite interesting. Learn about the band and other Slimstyle releases, view photos of each member, and just play around with the knowledge that comes with this disc. A nice bonus which will please all swing lovers who are up-to-date with the modern age of technology.

Definitely capable of a lot, and willing to experiment with anything, this band deserves credit for their innovation in the field of risk. Not afraid to do what other swing bands may deem sinful, their approach to music is both playful and fun. Don't try and hold these cats down, because they've probably already got the upper hand on you. I'll give this CD a B+.