Crawdaddy
The Lean Years... (Park Way Records)
By: Alex Steininger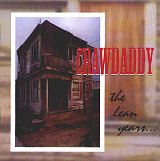 Mixing ska, swing, jazz, pop, punk, and a strong Mexican bite all rolled into one big burrito, then seasoned to perfection with even more Mexican flavor, Crawdaddy manages to create Bakersfield, California's first even Mexi-swing band. Listening to them is like eating at a fiesta in the heart of Mexico...there is a lot of good things, however you need to know what to indulge in, otherwise you'll end up sick.

Using a lot of samples and sound bytes throughout the album, "Big Al, The Crazy Lady and Other Nonsense" kicks off the album. Shaking it off, the opening musical track soon comes on. "Luche Libre" offers up an acoustic rumble of Mexican style party grooves combined with a jazz and swing essence. More South of the Border than anything, it is interesting to say the least. The music isn't that appealing, but it is their sense of humor and musical approach that helps make the song what it is. They seem to turn the ordinary and bizarre into a comical, sometimes serious, adventure that won't be forgotten. Moving on to "Skandal Nite," they quickly change musical paths and create an instrumental ska number that goes the route of Mexico once again. The horns are the ring leader, helping to lead the band through a tight cut that is sure to get you dancing. During the middle of the song they do break it down and turn up the distortion on the guitar, virtually ruining the song, however they soon jump right back into the bright horn and swift upbeat drive that makes this number as quirky as it is. From then on, you'll once again be bopping and dancing around to each and every note they serve up. A soft, relaxing acoustic number by the name of "Mr. Dryer's Opus" helps give you a few seconds to relax before they once again shove some muscled horns and ferocious guitar riffs your way on "Pink Drink." Spanish style swing, this song is definitely not like any of the other swing forms currently circulating. I mean that in a good way too. The sharp horns help push the number to the max, while the drums lay down the law so swiftly you don't even have time to think of something else besides tapping your feet along with them. After passing on a few tracks that aren't up to par, "The Annoying Song" soon comes on. Rightfully named, it's nothing more than a bunch of noises thrown together with words spoken over them. Talk about a bad streak, that makes six tracks in a row that serve more as a reminder to make sure your fast forward button works than something that you should be listening too and enjoying. But when "Pavlov's Dog Vs. Schrodinger's Cat" comes on you soon forget about all the other junk that has been thrown at you, as you soon concentrate on this garage-punk-fuzz number that will taste bitter at first but will soon grow on you to the point that you enjoy it. The music isn't the most concrete, but the song has some very comical lines mixed in with it. The song sounds as if the band just went in and had some fun with the mic, recorded this track, and decided to put it on the album for a few good laughs. That's exactly what it's good for. Don't take it seriously, or try to find meaning in it, because if you do you'll be disappointed. Quickly following it up however is the one track on this disc that will stick in your head and find you humming it even when you haven't listened to this disc in days. "Get in the Truck" is a pop-punk number full of horns and violin parts. A humorous take on the life of a band, this number will have you both laughing hysterically and questioning why anyone in their right mind would want to subject themselves to the lifestyle that a low-key indie band must wade through before they hit the big time. Full of juicy bass and catchy hooks, this song is not only well-composed, but is so true it will instantly grab you. I should know, because even when I'd gently let this disc fill out the background noise for my room, when this song came on I quickly turned my head and was fully immersed into it. Another album standout, "Swing Set" shows the swinging potential these guys have. Fast paced swing with a bite, after hearing this song you can't help but wonder why these guys don't sit down and focus on recording an all-swing album. Maybe it's because they don't want to capitalize on the current trend, or maybe it's because they are content spitting out many different styles on one disc. Who knows? At least they gave us a little treat of their swing styling to taunt us with. Ending with "Another Hidden Track Courtesy of Your Hard-Shelled Friends (The Josh)," there is nothing spectacular here. Hawaiian rock after a few cases of beer?

Crawdaddy has a few good tracks and that's it. There is too much partying going on and too little concentration, or so it seems. The CD spans the globe of music, and as such it's hard to sit down and listen to this disc from beginning to end without being confused. Maybe they planned it this way, or maybe they just slapped this disc out before really listening to it themselves. Once again, who knows? I'll give this disc a C-.